Peace officers pay respects to longtime Burnet County constable with escort home; Ballard died July 2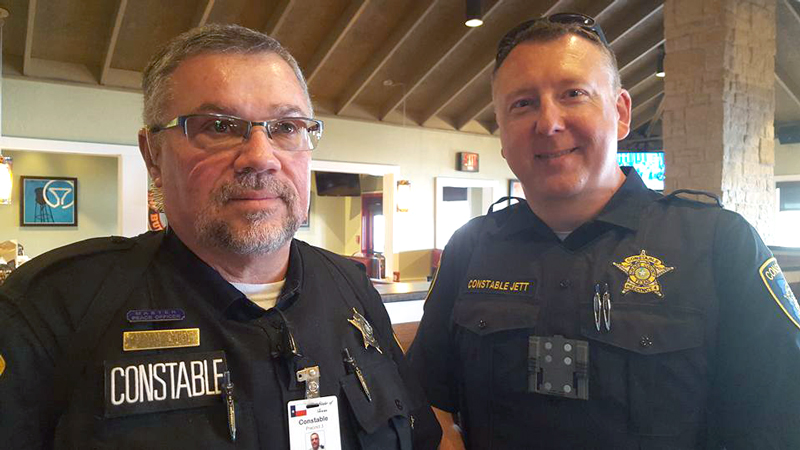 UPDATE: Jimmy Ballard's memorial service is scheduled for 10 a.m. Thursday, July 5, at First Baptist Church, 901 La Ventana Drive in Marble Falls. Visitation will begin an hour earlier. After the service, he will be laid to rest at Pleasant Valley Cemetery east of Marble Falls in Burnet County.
STAFF WRITER CONNIE SWINNEY
BURNET — Burnet County Pct. 3 Constable Jimmy Ballard was best known for his dedication as a civil servant and his compassion for children.
"Jimmy was a very caring person. He was always quick to volunteer and help," Burnet County Sheriff's Office Capt. Chris Jett said in a statement. "He spent many hours volunteering time with the Shriners and other organizations. He always gave back to the community."
At about 5 a.m. July 2, Ballard was pronounced dead at an Austin hospital following a lengthy battle with cancer and other health-related issues.
He was in his second year of a four-year term as constable.
His service as a peace officer spanned decades.
"He was a proud public servant. He was someone you could always depend on," Burnet County Judge James Oakley said.
Ballard was first appointed constable in May 1995 by the Burnet County Commissioners Court. The following year, he ran and was elected to the position.
Although he lost an election in 2000, he was soon re-appointed by commissioners to fill a vacated constable seat three years later.
Despite challengers through subsequent election years, Ballard continued to win the support of his constituents in Precinct 3.
"Jimmy was my good friend. When I took over as the Precinct 4 constable in the middle of a term, Jimmy was there to help me," Jett stated. "He helped me navigate the world of civil process and being an elected official.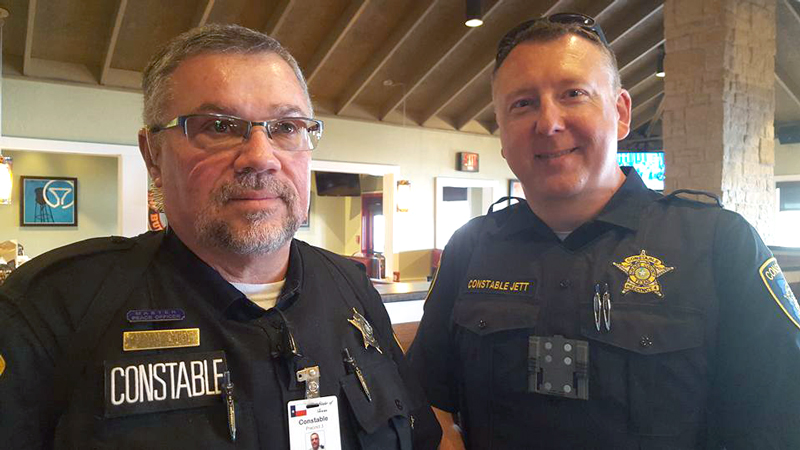 "He was always meticulous and professional in how he handled his duties," he added. "We developed a friendship and shared many meals, laughs, and tears together over the years."
His personality and sense of humor added another layer to Ballard's personal and professional styles.
"Even while going through the struggles of fighting cancer, he was quick with a joke and loved to needle his friends and be needled in return," Jett said. "It was his love language. That's what I will miss the most."
On the morning he died, area peace officers assembled an escort that traveled from Austin through Liberty Hill, Bertram, and Burnet on Texas 29 and eventually U.S. 281 to Clements-Wilcox Funeral Home in Marble Falls.
Departing at about 10:15 a.m., the procession arrived at its destination around noon.
"There is a mutual respect amongst peace officers," Oakley said. "The escort demonstrated a sense of teamwork, camaraderie, and respect for fellow law enforcement officers."
Along with a number of Burnet County elected officials, several agencies from the Austin area and the Highland Lakes participated in the escort, including the Burnet County Sheriff's Office, the Marble Falls Police Department, Burnet County constables in Precincts 1, 2, and 4, the Burnet Police Department, the Bertram Police Department, and the Liberty Hill Police Department.
Ballard is survived by his wife, Linda, and two adult children, Brook and Garrett.