Burnet police: Two dogs shot, one fatally, while attacking officer responding to call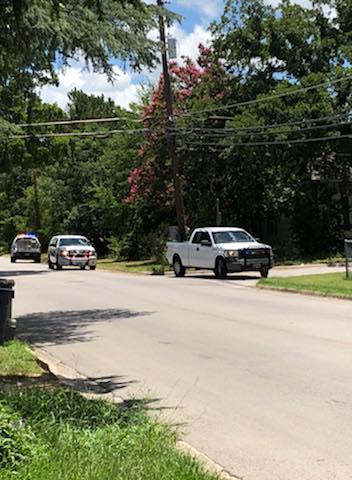 STAFF WRITER CONNIE SWINNEY
BURNET — A Burnet police officer is recovering from dog bite wounds following an incident June 14 when she shot two dogs, one fatally, that attacked her as she shielded a bicyclist, officials said.
An emergency call regarding three at-large dogs prompted the police response in the late morning hours to the 700 block of South Vanderveer Street.
Of the three dogs, one appeared to be a mastiff-pit bull mixed breed, another possibly a boxer-pit bull mix; and the third had characteristics of a Labrador and other breeds, according to the report.
Authorities said two pet owners could face charges due to reports of the dogs wandering the neighborhood prior to the alleged attacks.
Burnet Police Chief Paul Nelson said the agency is sifting through officer body camera footage, along with witness accounts and evidence, to review the circumstances that led to the shooting.
"Dispatch received a 911 call by a citizen that said he was being attacked by three dogs," Nelson said. "The dogs left the property, attacked the bicyclist, then they left (the scene)."
Burnet Patrol Cpl. Alex Fidler responded to the call, took a statement from the bicyclist, and assessed the scratches on the person's arm.
"When she was talking to the citizen, her body camera showed a dog coming from another residence," Nelson said. "Then, (the footage) shows the other dog charging her from across the city street.
"The third dog (then) came from the left-hand side," he added. "They attacked the officer in that process."
The officer fired two shots, which struck the two pit-bull mixes, killing one of them and injuring the other, the report stated. The third dog did not sustain a gunshot wound.
"(The officer) sustained injuries to both forearm areas from dog bites," Nelson said. "As a last resort, she shot the dogs."
The injured dog was taken to Burnet Veterinarian Clinic, where it underwent surgery and recovered, according to the report.
Officials sent the head of the dead dog to a state lab for rabies testing.
Investigators are awaiting copies of updated vaccination records from the pet owners.
The officer was treated and released from Seton Highland Lakes in Burnet.
"She's back to work. She's mainly in the office doing work," Nelson said.
The police chief added that a preliminary assessment indicated the officer's actions were justified.
"They attacked the officer when she was trying to protect the citizen," he said. "The only thing she could do was defend herself."