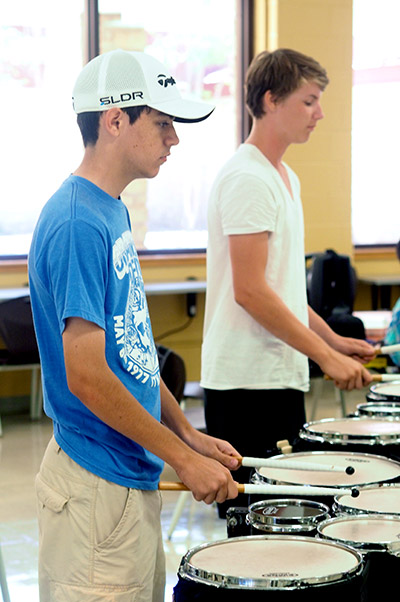 DANIEL CLIFTON • EDITOR
MARBLE FALLS — With more than 100 students putting in seven to eight hours a day in the band hall, scattered around the campus and on the paved practice area, things might feel a bit chaotic for Marble Falls High School band director Brad Behrens and his leadership team.
Fortunately for him and the entire band, this year's performance piece is called "Classic Chaos."
"It features snippets of classical music that most people will know when they hear it intertwined with other original music, so it almost sounds chaotic," Behrens said. "But it really comes together in a great show."
The Marble Falls band began gathering the last week of July with the leadership team (students and faculty), incoming freshmen and finally the full band. Then, on Aug. 3, it was full speed ahead with practices running 8 a.m.-4 p.m. The mornings start outside on the paved practice area behind the band hall.
"We're starting with our fundamentals," Behrens said. "We have a lot of new kids who haven't really marched yet, so we're teaching them how to march. And it can get complicated when you consider they have to march, hit their marks, keep the proper space between them and each other, play an instrument and remember the music."
But Behrens said that's one of the big benefits of band: teaching students how to handle a lot of different things — often all at the same time.
Band is more than music and marching, the director pointed out.
"It's about learning responsibility and leadership," he said. "There's a lot you can take from band and apply across your life, even after you leave high school."
Drum majors Kimberly Aguilar and Delaney Kelley agreed. Both juniors started band in sixth grade and have seen how it has impacted their lives in a number of ways.
"It really teaches you how to sacrifice for others," Kelley said. "You could go do something else, but in band, you have to work hard so the entire band gets better. It's not just about you. You're working for something bigger than just yourself."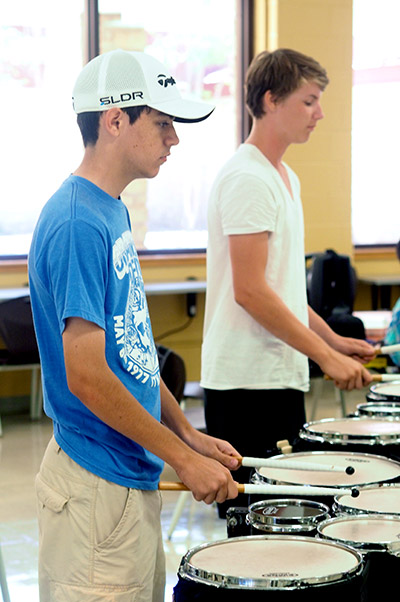 Aguilar said band teaches the importance of hard work.
"When you're in band or playing an instrument, as you work at it, you see how you get better," she said. "And that helps you keep working and trying to get better."
Both drum majors try to exemplify that work ethic as an example for the rest of the band members, especially the younger ones who might be questioning why they're out marching as the temperatures push the mercury higher.
The band starts the day working together on marching basics. After lunch, they return for sectionals indoors during which the various sections tackle their craft. And a lot of it is repetition with Behrens and his cadre of assistant directors and others putting the band members through their paces.
While people in the stands at the first football game Aug. 28 will hear incredible and complete pieces of music, the band members break down each selection, often measure by measure. It's through these steps that they begin mastering the music before putting it all together.
"They are working so hard," Behrens said.
While "Classic Chaos" sounds, well, chaotic, Behrens and the rest of the band staff — middle school and high school — began the selection process in January. They listened to countless pieces of music and tunes looking for the right one.
"What we were looking for was what's going to make (the band) sound the best," he said. "We wanted something that shows off how well they can play."
Along with the Friday night performances during football season, this is a advancing year for the Marble Falls band when it comes to the University Interscholastic League marching contest. The UIL rotates every other year with which classifications can advance to the state level, and this is a 5A year. While Behrens and the rest of the band know they have the opportunity to advance to the state level, the director explained what matters most is the kids doing the very best they can.
"We want the community to be proud of us," he said.
daniel@thepicayune.com