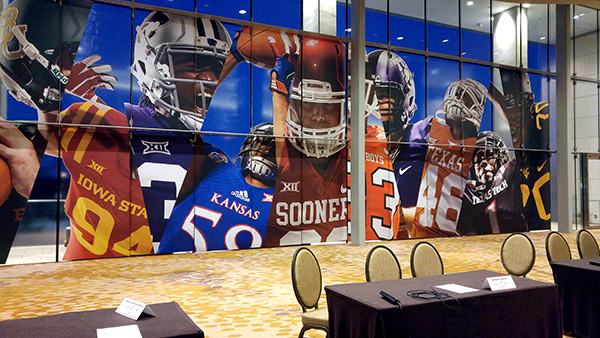 JENNIFER FIERRO • STAFF WRITER
DALLAS — You know those movie scenes of press conferences where reporters are pushing each other, sidestepping equipment and yelling out questions to a single person? And as you watch, you feel sorry for the one who has to answer those questions?
Last week was just like that at the Big 12 Conference football media days.
Except for one small part: Sports reporters are more polite to each other.
Some fans may think sports journalists have easy access to coaches and players, but the reality is that for many of us, media day events are our only chance to get in-depth information about the teams we cover.
And little is off limits.
• University of Texas coach Charlie Strong was asked about his relationship with athletic director Steve Patterson.
• Baylor University coach Art Briles was asked his thoughts on not being picked to win the conference championship after capturing the league titles in 2013 and 2014.
• Oklahoma University coach Bob Stoops was asked if bringing quarterback Trevor Knight to media days meant the San Antonio Reagan graduate had the inside track to being named the starter.
• Texas Christian University coach Gary Patterson was asked about the "Frogs Factor," finding players who fit their system.
• Texas Tech University coach Kliff Kingsbury was asked to pick someone not named Ryan Gosling to play him in a movie.
Pretty standard stuff, right? Nothing out of the ordinary except that for many of these coaches, they'd rather not answer because they don't want to tip their hands to their opponents on what they're going to do.
In fact, West Virginia coach Dana Holgorsen said he would not talk in-depth about what quarterback will be used this season because "there's people watching."
Reporters can always tell how comfortable a coach is with them by how they respond when a question is asked.
Briles is known as a conversationalist and for his honest unique responses. It wasn't unusual for him to answer a question with a question and take a moment to really listen to the response of a reporter when he turned the tables.
Strong paused and chuckled when asked about specific players on his roster, which might have embarrassed the reporter since he waited a little too long to give a response. But his nonverbal response was: "Did you really just ask me that? And do you really think I'm going to answer?"
But all coaches were true gentlemen, not favoring one reporter over another, and very few refused to answer a question.
As fun as it was to interview the head coaches, each brought at least three players with them to give their thoughts on the upcoming season.
The players are used to being interviewed and were quick to offer their thoughts on position battles, their friendships with opposing players in the Big 12 and realistic expectations from fans.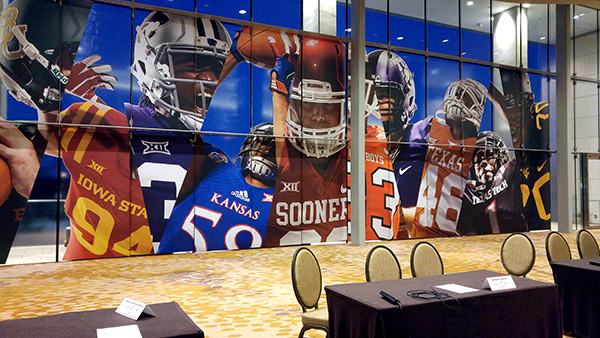 The one common denominator is they want to have a better season than what they experienced last year.
No player attracted more attention than TCU quarterback Trevone Boykin, a popular pick for the Heisman Trophy. In fact, he had as many cameras and reporters in front of him as his head coach.
Each day began with speakers who were not coaches such as Commissioner Bob Bowlsby, College Football Playoff Executive Director Bill Hancock and Big 12 Supervisor of Officials Walt Anderson.
Each spoke in a press conference and answered questions for about 30 minutes. A short break that averaged around 12 minutes allowed reporters to begin writing stories, update social media or simply take a break.
After a two-hour lunch break, reporters pulled out their cameras, microphones, voice recorders and other devices to get ready to ask coaches and players questions up close.
The rewards of attending media days still far outweigh the challenges. Most of us don't take for granted the access we have that the average fan does not. Not everyone goes out of their way to be a sunshine pumper or rain on the parade of each team. And most of reporters there have a genuine love for the teams they follow. Many of the reporters wore team shirts. And one or two expressed concern for the head coach who enters the season on the hot seat or wonders how players will handle the pressure of being picked to finish high in the polls.
Being pushy? Sure. Asking tough questions? Yep. But complaining? No way, not when standing three feet away from some of the best offensive and defensive minds in college football.
jfierro@thepicayune.com