Area track athletes headed to Texas Amateur Athletic Federation state meet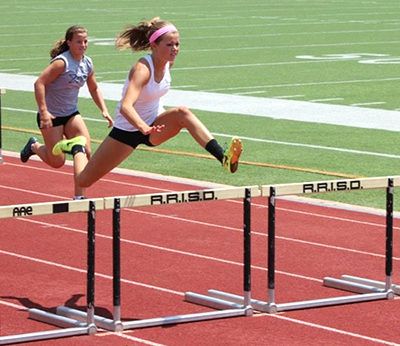 JENNIFER FIERRO • PICAYUNE STAFF
ROUND ROCK — Several Burnet County track-and-field athletes are headed to the state meet of the Texas Amateur Athletic Federation with their performances at a recent regional meet.
The event was July 12 at Dragon Stadium.
Coach Anthony Torns credited his athletes for their finishes, noting the Texas heat and the meet schedule didn't make it easy for them.
"It was hot," he said. "It was 103 degrees — really hot."
In addition, some of the athletes, such as Cody Schultz and Chase Martin, had to run in back-to-back events with about 20 minutes of rest in between.
Martin and Schulz's younger sister, Natalie, each competed in both hurdle events with some fantastic finishes, Torns said.
"They were neck and neck at the line," he said.
Torns is hoping the times will be better for the state meet in Corpus Christi on July 25-28, especially if it's not as hot, he said.
"The times weren't the greatest," he said. "With better conditions going to state, we should be a second to a second-and-a-half faster."
jfierro@thepicayune.com
[tabs style="default"] [tab title="STATE QUALIFIERS"]
Boys — (17-18 year olds) 200: (2) Cody Schulz, 22.07 (new personal best); 400: (1) Cody Schulz, 50.11; (15-16 year olds) 200: (2) Brock Foster, 23.00; 110 hurdles: (1) Cole Woodrum, 16.7; 300 hurdles: (1) Cole Woodrum, 43.00; long jump: (1) Brock Foster, 19-5. Girls — (17-18 year olds) 300 hurdles: (3) Maddie Johnson, time not available; (15-16 year olds) 200: (2) Chase Martin, 27.5; 400: (2) Lauren Loader, 64.00; 100 hurdles: (1) Chase Martin, 16.5, (2) Natalie Schulz, 16.75; 300 hurdles: (1) Natalie Schulz, 47.5, (2) Chase Martin, 47.53; high jump: (1) Lauren Loader, 4-8
[/tab] [tab title="UP NEXT"]
TAAF State Meet on July 25-28 at Cabaniss Multi-Purpose Complex, 3062 Pecos Drive in Corpus Christi
[/tab] [tab title="PHOTO 2″]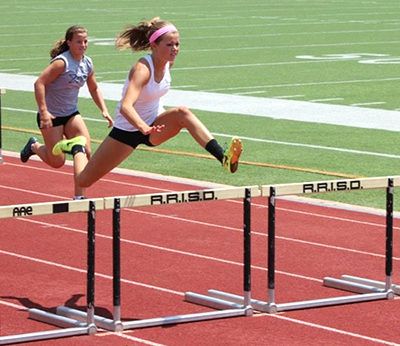 Natalie Schulz runs in the 100-meter hurdles for the first time in a regional meet of the Texas Amateur Athletic Federation at Dragon Stadium in Round Rock. She finished second in 16.75 seconds. Courtesy photo
[/tab] [tab title="PHOTO 3″]
Chase Martin is on her way to winning the 100-meter hurdles in 16.5 seconds at a regional meet of the Texas Amateur Athletic Federation at Dragon Stadium in Round Rock. Courtesy photo
[/tab] [tab title="PHOTO 4″]
Lauren Loader wins first place in the high jump, clearing 4 feet 8 inches in a regional meet of the Texas Amateur Athletic Federation at Dragon Stadium in Round Rock. Courtesy photo
[/tab] [/tabs]