Marble Falls track has good showing at two track meets in three days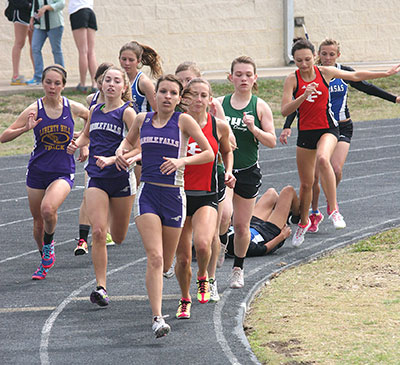 JENNIFER FIERRO • PICAYUNE STAFF
MARBLE FALLS — The Marble Falls High School boys and girls track teams recently endured a challenging stretch with two track meets in three days.The Mustangs went to Wimberley for the Texans Relays on March 21 and then competed in the 26th annual Wells Fargo Burnet Bulldog Relays on March 23.
The Lady Mustangs tied for first at Wimberley with 117 points and were fourth at the Bulldog Relays with 103.25 points.
Meanwhile, the Mustangs were fourth at Wimberley with 103 points.
Marble Falls head coach Kyle Futrell attributes the finishes to how well the relay teams are performing in both divisions.
"The varsity boys have been real good in all three relays," he said. "We've won several first places all year."
At Wimberley the Mustangs won the 4×100 relay in 44.29 seconds thanks to the efforts of Carson Bowen, C.J. Childers, Aidin Parnell and Keith Jerome. Bowen, Parnell, Jerome and James Bryer teamed up for third in the 4×200 relay with a time of 1:32.53. Bryer joined the 4×400 relay team with Childers, Steven Petrosky and Cody Skipper for fourth in 3:39.
Bowen, who also plays baseball, has been splitting his time between the two sports. And he's helped both teams excel, Futrell said.
Bowen finished tied for first in the 100 meters in 11.08, while Jerome was third in 11.13.
"That was good," Futrell said.
Parnell has been very consistent in his performances, the coach said. At the Wimberley meet, he was third in the high jump with a flop of 5 feet 10 inches and sixth in the triple jump with a leap of 38-1.
"He's really good, and he's also gotten better," Futrell said. "He's a regular performer for us."
Rey Baltazar hasn't found many who have challenged him in the throwing events, Futrell said. He won the shot put and the discus at Wimberley with heaves of 53 feet 3 inches and 133-5, respectively.
"Rey is undefeated in the shot and discus this year," Futrell said.
The girls 4×100 relay team of Sarah Lewis, Chase Martin, Maddie Johnson and Natalie Schulz was second at Wimberley in 52.10 seconds and first in Burnet in 50.90 seconds.
"Our girls came within less than two-tenths of a second of the school record," the coach said. "I anticipate (March 28) at our Mustang Relays, our big goal is for the girls to break the school record."
Schulz and Martin have been performing well in their individual events. Martin was second at Wimberley in the high jump with a flop of 5-2 and tied for first in Burnet at 5-0. Schulz was third in the triple jump with a mark of 34-7 at Wimberley and second at Burnet with a jump of 34-2.25. She was first at both meets in the long jump with a leap of 15-6.5 in Burnet and 16-7 in Wimberley.
Sarah Lewis finished first at both meets in the 300-meter hurdles in 47.5 at Burnet and 48.45 in Wimberley.
"She's being real steady in the hurdles," Futrell said. "She's developing consistency and has the potential to drop her time, which is good."
Teagan Hall was second in the discus at Wimberley with a toss of 103-10 and third at Burnet with a mark of 100-0.
UP NEXT: Marble Falls will compete in their Marble Falls Daybreak Rotary Club Mustang Relays at noon March 28 at Mustang Stadium, 2101 Mustang Drive.
jfierro@thepicayune.com
[tabs style="default"] [tab title="PHOTO 2″]
Marble Falls High School anchor runner Keith Jerome crosses the finish line after competing in the 4×100 relay at the 26th annual Wells Fargo Burnet Bulldog Relays on March 23. Staff photo by Jennifer Fierro
[/tab] [tab title="PHOTO 3″]
Burnet High School 800-meter runner Shaylah Hullum leads the pack on the final curve of the race to win first place in 2 minutes 27.11 seconds at the 26th annual Wells Fargo Burnet Bulldog Relays on March 23. Staff photo by Jennifer Fierro
[/tab] [tab title="PHOTO 4″]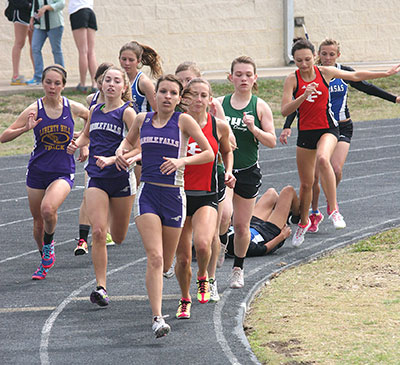 Marble Falls High School runner Darby Hibbs (front) is just ahead of the pack that includes teammate Tess Johnson (left) during the 800-meter run at the 26th annual Wells Fargo Burnet Bulldog Relays on March 23. Staff photo by Jennifer Fierro
[/tab] [/tabs]