Coaches honor Lady Dawgs for historical season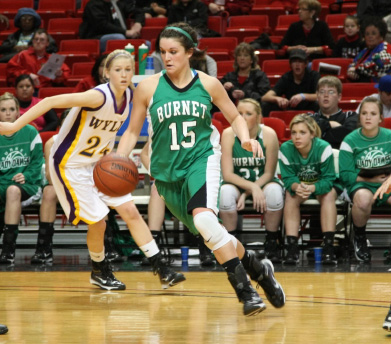 BURNET — Four years ago, a group of freshmen chose to do what many would not. They decided to put on green and white basketball uniforms to represent Burnet High School on the varsity level.
They knew the task in front of them. After all, competing in District 25-4A for a high school that was one of the smallest in the conference was not easy.
Add to it the fact these athletes competed against more experienced players who were stronger, quicker and more court savvy, and it made other athletes wonder why these underclassmen were willing to do it.
Four years later, they have their answer. After winning the District 8-3A crown for the first time in two decades and returning to the Class 3A Region I Tournament to rewrite history again, these seniors can honestly say they have left the program much better than they found it.
As a result, several of them were singled out by district coaches for their contributions to a memorable season.
Senior guard Shay Graeter was named the district's Most Valuable Player.
Senior forward McKinsey Cozart was named the district's co-Defensive Player of the Year.
"They always brought consistency to the team," head coach Mike Cavender said. "They were always going to do what they did best."
Graeter pushed the pace of the game and set up teammates for buckets.
"You could count on what you were going to get," Cavender said.
Cozart relished the opportunity to show her defensive skills, he said.
"She drew the other team's best offensive player," he said. "They were consistent in what they did, and both were very good at what they did."
Senior guards Kerstyn Towslee and Brooke Rockafellow were named to the first team, while sophomore forward Leah Cotton was named to the second team.
Senior post Eden Sultemeir, sophomore wing Kati Maldonado and junior guard Anastasia Bingham were honorable mention.
"I feel fortunate for us to get that many kids," Cavender said. "We were in a five-team district. You had five on the first team and five on the second team. In years past when we had a big district, there were eight kids on the first team and eight on the second team."
These Lady Dawgs were part of the coach's eight-player rotation, meaning if they did not start, they were the first ones off the bench in relief.
"You could look at our team," Cavender said. "We were very balanced. It's one of the things that allowed us to be in the position we were in. I had seven, possibly eight, different kids. Eight kids scored in double figures."
If a team keyed on Graeter, Towslee and Rockafellow made them pay. If opponents decided to limit the guards, Sultemeir, Maldonado and Cozart pounded the lane for high-percentage shots.
If a player struggled, Cavender had the depth to put someone else in and had the confidence she was going to get the job done, he said.
The district also included some talented players, Cavender said.
Llano High School's big three of seniors Allie Rostron, Ashley Schroeder and Olivia Hutto were singled out for their contributions.
Rostron was named the district offensive player of the year, Schroeder was named to the first team and Hutto was put on the second team.
"I'm happy to get as many kids involved as we did," the Lady Dawgs coach said.
To the coach and players, the team's goals were more important than the individual honors.
"I certainly don't think it meant as much to them as the season they had," he said. "They were at the regional tournament two years in a row when Burnet had not ben there in 60 years. They helped get it started."