New MFISD Education Foundation director enhancing link between schools, community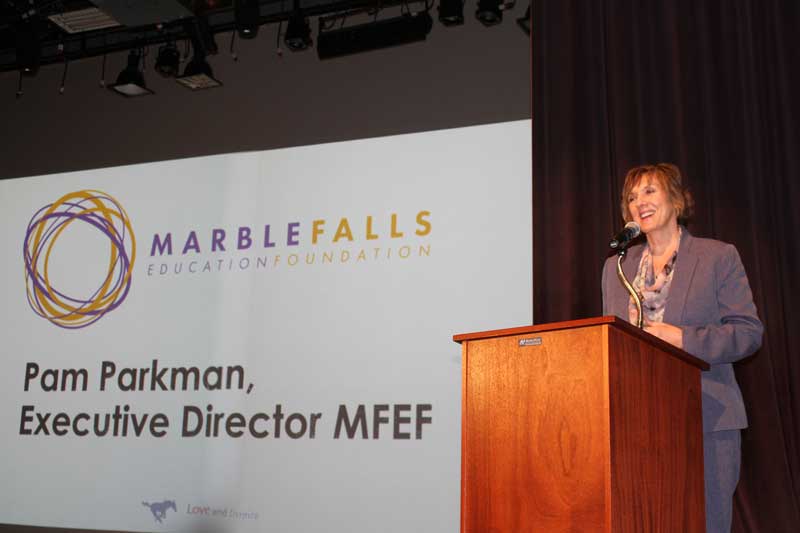 STAFF WRITER JENNIFER FIERRO
MARBLE FALLS — With a strong background in fundraising for nonprofits, including the Lubbock Symphony Orchestra and a senior adult continuing care community, Pam Parkman is a natural fit for the role of Marble Falls Education Foundation executive director.
It was her background and attributes that caught the attention of foundation board members as well as Marble Falls Independent School District officials.
"(She has) a proven track record of fundraising and development in her previous employment," MFISD Superintendent Chris Allen said.
Parkman now brings her abilities to the recently created Marble Falls Education Foundation, which has a mission of providing resources for excellence in education, promoting innovation in teaching, inspiring learning, and partnering with the community to enrich the quality of education for every student.
The foundation's board of directors and school administrators interviewed several candidates but picked Parkman, who previously worked for the Lubbock Symphony Orchestra, served as director of development for a continuing care community in Lubbock, and founded and operated her own business that helped senior adults transition into care facilities.
Allen also applauded other aspects of her background, which will help her in fundraising and building relationships within the community.
"She operates from ethics," he said. "She has a special gift of having conversations with people about how to partner. It's sensitive and inviting but in no way is offputting to make people feel like they're being pushed around."
Parkman said she knew immediately why so many of the directors have a deep affection for the education foundation's work.
"This board of directors was highly invested in the community," she said. "Many are Marble Falls ISD graduates; they have a passion for it. I saw that passion in the first interview that they would support that effort. They were going to listen, research it, and make it happen."
The Marble Falls Education Foundation is the result of splitting off from the Highland Lakes Legacy Fund. The Legacy Fund was responsible for collecting and distributing scholarships, but MFISD has taken over that responsibility, Allen said.
"We can focus on telling our story, and it allows the Highland Lakes Legacy Fund to concentrate their efforts on nonprofits in town," he said.
Allen said Parkman has raised millions of dollars for art museums and symphony orchestras and even served on the board of the National Association of Symphony Orchestras in New York, which represented orchestras across the country.
The foundation board charged Parkman with raising money for the school district and engaging the community.
"I already see the community is very supportive of the school district," she said. "I think there are ways we can partner together where both of us can win."
She pointed out that educators are teaching the future workforce, which will benefit many local businesses.
Parkman understands that the community and the school district both want the same thing: to meet the needs of the other and come together to do that.
"People want to help; they just don't know what to do," she said. The important aspect is letting residents know they can help the foundation in many ways."
Along with raising money for student scholarships, the foundation also assists teachers. Before classes began this year, the foundation presented $100 to all first-year teachers so they could purchase items for their classrooms.
"We want to give teachers the equipment and professional development they need to teach our students," Parkman said. "Our students are always our number one priority. If they're not given what they need to be successful, I think that's where we come in. We want them to see we value you, we support you, we're going to help you in your classroom and get you started."
The response from veteran teachers was equally enthusiastic, Parkman added, noting many said, "This is awesome that you're supporting this group of teachers."
Scholarships for students and teachers is a priority for the foundation. Identifying those needs and recognizing achievement and innovative teaching are part of the objectives, Parkman said.
"We want to recognize both students and teachers for meeting those goals," she said.
She encourages residents to reach out to her at pparkman@mfisd.txed.net with ideas, observations, or just to say "hello."
"When you're passionate about something, it's easy to share that, to listen and get people to support it," she said. "So let's do something to help the entire school district, to help the entire community."