Marble Falls installing purple pipes to bring effluent water to sports fields, saving money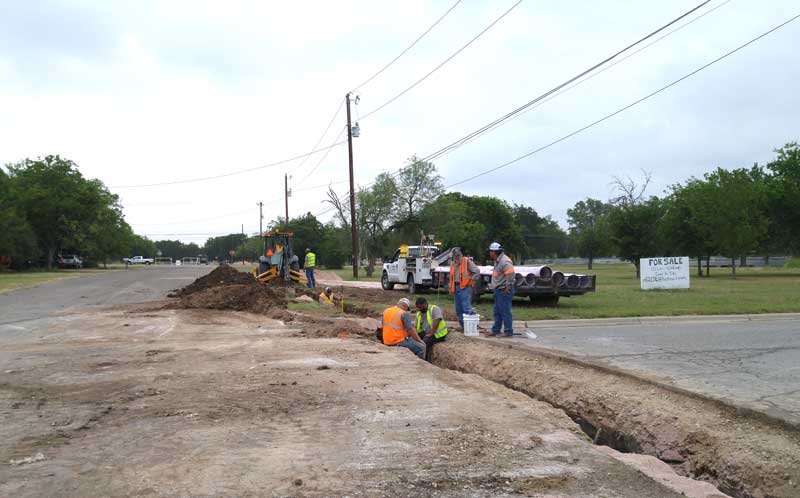 STAFF WRITER JENNIFER FIERRO
MARBLE FALLS — While their color is purple, these pipes will end up saving Marble Falls taxpayers some serious green.
City workers are installing several hundred yards of "purple pipe," which carries effluent water to area sports fields. By using effluent water (treated, but not for human consumption), the city of Marble Falls looks to save 9.3 million gallons of treated water for human consumption annually.
That's a lot of water, but it also adds up to a lot of money saved.
The city's water and wastewater department is extending the purple pipe from Yett Street to The Greens soccer fields, located at Avenue K and Sixth Street, thanks to a $33,176 Lower Colorado River Authority grant. The water and wastewater department has six weeks to lay down the pipes. Workers are averaging about 300 feet a day and are digging ditches 4 feet deep.
"It's easy digging," said Marble Falls Parks and Recreation Director Robert Moss. "They're moving right along with it."
Moss said the city has hired a contractor to do the borings work under the railroad tracks at Yett Street and the Fourth Street bridge.
Once the pipes are installed and connected, city workers will handle what's left.
"We're not going to be getting into playing fields as far as running pipe," Moss said. "We'll use the existing irrigation system and change out different heads to high-flow and either replace the heads with purple heads or paint them to purple. We'll also have signage just like we do at Johnson Park indicating we irrigate with recycled water."
While "purple pipe" recycled water isn't safe to drink, it is safe to play on fields where it's used for irrigation, Moss said.
"It's safe for human contact," he said. "It's processed, filtered, and (chlorinated)."
Moss added that once workers start that part of the job at The Greens, they should have it completed in about a week.
By installing the purple pipes on Yett Street, city workers also accomplished another important feat. The intersection of Yett Street and Avenue L is also the site of the proposed adult soccer field. Council members approved an agreement with J.M. Huber Corp. during their meeting March 30.
With the purple pipes there, the parks department will add an irrigation system once the land is leveled off.
"Good fields are dependent upon water and adequate irrigation to have good fields," Moss said. "It makes better use of a valuable resource. It keeps us from having to add a water source from our lake by using the water drawn from the lake. Even during a drought, (recycled water) comes from wastewater. We're getting an additional use out of that water."
Moss said he has spoken to officers of the adult soccer league that currently plays its games at Johnson Park. They and their players have volunteered to do the labor to clear off the area of the proposed adult soccer field and get it ready for play.
"They've expressed an interest in assisting with that," the director said. "I suspect, within this calendar year, we'll take action to get it going."
POOL FEES AND SCHEDULE
With the school year about to end, the parks department also released a new schedule and fees for the city's pool located at 305 Buena Vista.
It will be open noon-5 p.m. Tuesday-Wednesday and Friday-Sunday and 5-7 p.m. Thursday.
A family membership pass dropped from $125 to $100.
Moss said the YMCA of the Highland Lakes at Galloway-Hammond will continue to operate the pool, hiring lifeguards and offering swim lessons.
Click HERE for more information.