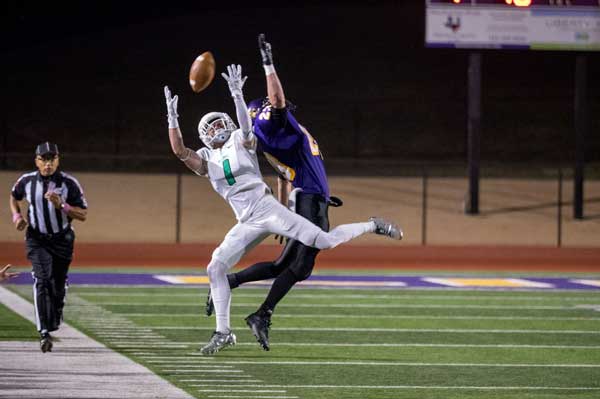 JENNIFER FIERRO • STAFF WRITER
BURNET — In his fifth year as Burnet High School head football coach, Kurt Jones has guided the Bulldogs to the playoffs each season and lost to Taylor once in five games: a 9-7 setback in 2012.
Since that loss, the fourth-seeded Bulldogs (7-3 overall, 2-3 District 13-4A Division I) have defeated Taylor once in 2015 (55-35), twice in 2014 (43-13 and 42-10), and once in 2013 (34-24).
That win streak will be tested in a bi-district matchup between the two teams at 7:30 p.m. Friday, Nov. 11, at A.C. Bible Stadium, 3301 S. Bagdad Road in Leander. Listen to the game on KBEY 103.9 FM Radio Picayune or at KBEYFM.com starting with a pregame show at 7 p.m.
But Jones said what happened the last four games doesn't mean anything now and noted the District 14-4A champion Ducks (7-3, 4-0 district) are a different squad this year.
"Playoff time is exciting; it's a new season," he said. "You can't get caught up with it being playoff time."
Taylor will utilize a spread offense led by senior running back Jarrell Crittendon, who has 1,027 yards and 14 touchdowns on 120 carries.
Taylor junior quarterback Ryan Gardner has completed 61 passes for 985 yards, 10 touchdowns, and six interceptions, and rushed for 251 yards and seven scores on 57 carries.
"He makes good decisions throwing the ball and runs fairly well," Jones said about Gardner. "They're still primarily going to try to run the ball out of (spread formations). They throw it as well as I've seen them throw it. They want to get in the game and spread it in all directions."
Taylor senior receiver Malik Jackson, a 6-foot-3 speedster who committed to the University of Tulsa over the summer, has 24 receptions for 468 yards and five touchdowns.
Jones called him a great athlete, which was evident at the Class 4A state track meet when he captured a bronze medal with a leap of 22 feet 11 inches.
"(The Ducks) seem to be pretty well-structured and disciplined in their system," Jones said. "They simplified the system and will be good. They're pretty sharp and efficient in their spread."
Taylor also has simplified its defense, Jones said, noting the linebackers are more athletic and the secondary has at least 16 interceptions on the season to lead District 14-4A.
The defensive leader is sophomore outside linebacker A.J. Zarate, who has more than 60 tackles on the season.
"The defensive linemen and linebackers aren't overly big but are good athletes," Jones said. "Up front, they're impressive."
Burnet will counter with senior quarterback Koby Edwards, who has thrown for more than 2,200 yards and 28 touchdowns this season. Senior receiver Drew Kiser has more than 700 yards in catches, and senior running back Tyler Ford has more than 600 yards rushing.
jfierro@thepicayune.com