Lady Mustang returns to volleyball court as a coach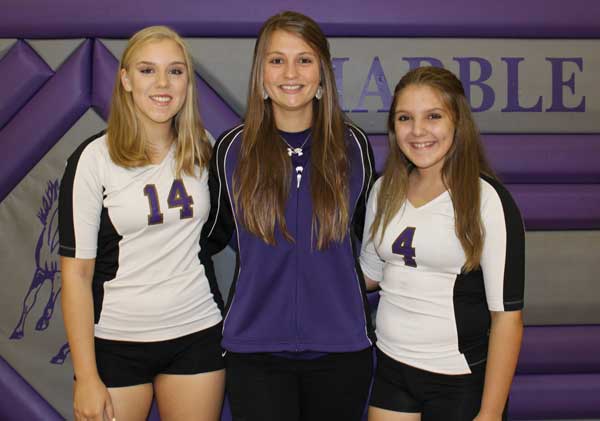 JENNIFER FIERRO • STAFF WRITER
MARBLE FALLS — Few people understand what it means to be a Marble Falls High School dual-sport athlete better than Allison Bendas.
The 2011 graduate played volleyball and softball for the Lady Mustangs throughout middle school and high school.
Over the summer, she returned to her alma mater to be an assistant volleyball after completing a degree in history. She's pursuing a master's degree in curriculum instruction at Texas A&M University.
"It's interesting being back and being on the other side," she said. "Now I get to see it from a coach's perspective.
"I wanted to teach and coach," she added. "The job came up, I applied, it seemed like a good fit."
Bendas, who is teaching at Marble Falls Middle School, was a member of the volleyball team the last time it advanced to the playoffs in 2009.
"Playing here, you have the community support," she said. "No other school is like that. This is more of a hometown community feel. The community gives us so much love."
She also entered the profession because of her admiration and the influence of her own coaches such as former volleyball coach Mich Robertson, who also was a history teacher.
Bendas noted that playing a team sport helped her in numerous ways, including people skills and the value of hard work.
"I really love team sports," she said. "They helped me grow to be the best I could be. That's what I want to get (my players) to do."
The new coach also enjoys working with head volleyball coach Jessica Withrow, noting she is trying to be like a sponge in learning all she can from her. Withrow has already been a head coach in Sweetwater after earning a degree from Abilene Christian University, where she was a heptathlete.
"Because of her college background, she knows what it takes to get to the next level," Bendas said. "She's able to teach how to be a well-rounded athlete. She knows how to get girls going."
Withrow said she has enjoyed working closely with Bendas, noting it wasn't so long ago when she was a first-year coach and grateful to other experienced coaches for their advice and examples.
What helps Bendas is she has playing experience, so now she can pass on her knowledge to the players.
"She already understands the rotations and how they work," Withrow said. "Now, it's learning how to organize and going over every little detail. She's not shy to ask questions – that's helped."
The head coach noted that Bendas arrived early and stayed late for the Lady Mustangs summer camp in July. That extra time allowed the two to build a rapport as the young coach learned Withrow's drills and why she wants things done a certain way.
It wasn't so long ago that Bendas was a player, Withrow said, which she believes helped her with the freshman squad.
"I really feel like she's nurtured them to get them ready for the upper levels," Withrow said. "Her personality is exactly what we need in this program."
One goal Bendas has for her squad is helping the players develop into leaders, noting how vital it was for her when she played and contributed to the success on the court and the diamond.
"When I played we had some great leaders and seniors as well," she said. "They knew what they needed to do and did what they needed to be doing.
"I'm hoping we can get it back to where we used to have it," she added. "I'm trying to be that motivator for them and try to teach them to love the game. Now that I'm back, it feels like a good fit. I want to build a good base here."
jfierro@thepicayune.com