New Llano city manager begins first day at work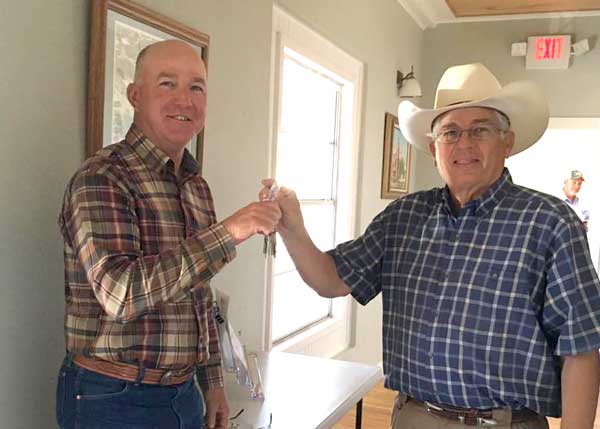 CONNIE SWINNEY • STAFF WRITER
LLANO — The first order of business for the new Llano city manager Aug. 1 involved not only getting to know the staff and the community but establishing himself as a leader with an "open door policy."
 "Throughout my career, I've worked with people. It's been a mainstay of my jobs," 50-year-old Scott Edmonson said. "I want people to feel comfortable, come by and visit with me if they have concerns. I'm going to be very transparent."
Before taking the Llano job, Edmonson worked for the past two years as maintenance director in the Llano Independent School District.
Before that, he worked as city manager at Mertzon, southwest of San Angelo, from 2010 to 2013.
His past experience includes 14 years as the Texas A&M AgriLife extension agent covering the Pecos, Irion, Guadalupe and Schleicher area south of San Angelo.
"We knew who he was, and he knows who we are, so we have somewhat of a mutual respect in that regard," said Reagor of the city's role in recent LISD construction permitting and updates. "There's a certain amount of confidence level when you work with people that you know."
Edmonson and the mayor began the process of sorting through short- and long-term goals.
"We've been discussion of the priorities, some of our infrastructure, and (will) go from there," Edmonson said.
On Edmonson's first day on the job, Llano Mayor Mike Reagor ceremoniously handed the new city manager the keys to the city.
The new city manager and city staff expect to review and launch steps for implementation of a recently released Comprehensive Infrastructure Improvement Plan to upgrade the city's "aging infrastructure."
"We've got a lot of things we've got to work on. I look forward to working with the council, the staff and the mayor and moving the city forward," Edmonson said.
Edmonson's hiring comes just weeks before the council is expected to pass a proposed budget and tax rate.
"I'm very comfortable with it. I was working on my part of the budget at the school. I'll be looking at that closely with due diligence and following that guideline," Edmonson said. "They've done the hard part before I got started."
The Llano City Council hired Edmonson at a salary of approximately $82,000 a year plus benefits.
The mayor served as acting city manager as the council conducted its search after the departure of former city manager Brenton Lewis in February.
"We have a list of priorities. We just need to figure out how we're going to finance those projects," Reagor said. "We need to fix Llano."
Edmonson's wife, Maela Kothmann Edmonson, is the principal at Packsaddle Elementary School in Kingsland. They have two sons in Llano schools — one in junior high and the other at the high school.
"I'm very honored to have the position," Edmonson said.
connie@thepicayune.com