Biting, scratching incidents spark probe into Llano day care center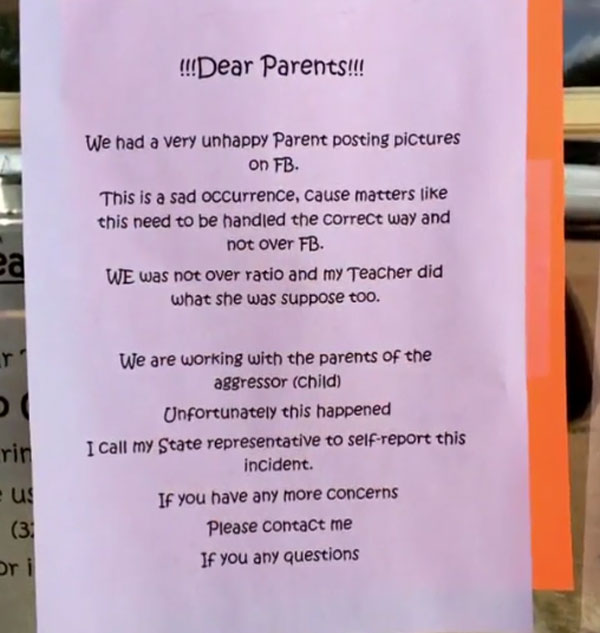 CONNIE SWINNEY • STAFF WRITER
LLANO — The state Department of Family and Protective Services has launched an investigation into Little Jackets Learning Center, where a child sustained several bite marks and scratches in one day to his face and arm, officials say.
Parent Randi Grounds said she picked up her son, 17-month-old Casey Gass, from the facility, 1705 Wright St., on Aug. 31 and found him covered in wounds.
"I saw his face, and all I could do was cry," Grounds said. "He had a busted lip and several bite marks on his face that were noticeable."
Grounds first unveiled the incident by posting photos of her son's injuries on her Facebook page and criticizing the actions of the center.
"I took pictures right away," she said. "Because Llano is such a small town, I felt like the kids and the parents needed to know what was happening in that day care."
Before releasing her son, Grounds said she had spoken with the day care director to discuss at least two previous incidents in which Grounds found scratches and bites on her son's body.
"I think it was just lack of supervision, and they didn't care that it was happening," she said. "They need to find another job, because I think watching children is not something they need to be doing if they're going to allow that to happen."
Attempts to contact the owner of the facility or discuss the allegations with the day care center director were unsuccessful.
That evening, Grounds took her son to the emergency room, where he was treated for bites and scratches on his face, chest, elbow and arm.
"They put antibiotics on his wounds. They gave him oral antibiotics that he has to take for the next 10 days," Grounds said. "The cut under his eye —  they put something to close it shut because that one at the bottom of his eye was so deep."
A family member contacted the state agency that regulates licensed centers, and officials launched an investigation Sept. 1.
"We are looking into concerns with supervision, and we'll investigate whether any minimum standards were violated including the responsibilities of the caregivers," said Julie Moody, media specialist with Department of Family and Protective Services. "At this time, there is a safety plan in place while the investigation continues and what that means exactly is the caregivers that were in charge the day the child was injured cannot care for children unsupervised."
State investigators are expected to utilize a report by the Llano Police Department. The agency is providing an incident report but has no reason to handle the case as a criminal investigation.
"(An investigator) took statements from everybody involved and pictures of the injuries," Police Chief Kevin Ratliff said. "We're just assisting CPS. It's a regulatory issue."
State workers are expected to conduct additional interviews with parents and the staff to review protocols followed by the center.
"When an investigator with child care licensing goes into a day care, not only do we look at the allegation for why we're there in the first place, but we go through a thorough inspection," Moody said. "We take a look at everything from are there thorough background checks to how the caregivers are handling diapers, how caregivers are handling food. It's an extremely long list."
The investigation could take 30-45 days to complete.
"When child care licensing finds a deficiency, we work with the day care. We provide more training. We go visit more often," she said. "It's too early to say. Technical assistance may be provided for the day care, and that means more training."
She added the facility might be responsible for the training cost.
Little Jackets Learning Center has been subject to at least two annual inspections.
"They've only really have a two-year history. During that two-year history time, there were two deficiencies found, and they were both medium-weighted deficiencies," Moody said.
One of the deficiencies related to non-working playground equipment, Moody said.
"We want to find out if there were any violations of the minimum standards," she added. "If there were, how they could be rectified, so children are safe in that day care."
Detailed information about the history of inspections of child care centers that are licensed or registered with the state can be found at txchildcaresearch.org.
"Oftentimes, when children injure other children, the day care provides information to the parents in a timely manner, and parents can respond how they deem fit to respond to it," Moody said. "There is minimum standards for when a child is injured. The day care is responsible for letting the parents know when it happened and what they did to (treat) the child."
Moody said day care centers are not subject to specific protocols in handling children who are accused of injuring other children in their facilities.
"If there is a child who is biting, biting other children, I would say that's a decision that the day care has to make," she said.
Grounds believes lack of communication and supervision put her child in harm's way.
"Why didn't they call me and tell me that this was going on. Ten bites doesn't happen at one time. It's throughout the day. I just feel like my child was crying all day," Grounds said. "For a 17-month-old, that's got to be horrific for him. The pain he suffered all day long, and they never once called me to pick him up."
A family member is caring for Grounds' son while she and her husband work.
Grounds said she is considering legal action against the day care facility.
"I just feel like other actions should be taken and my family as well," she said. "Nobody should have to go through that. They knew it was going on and nothing was getting done."
connie@thepicayune.com