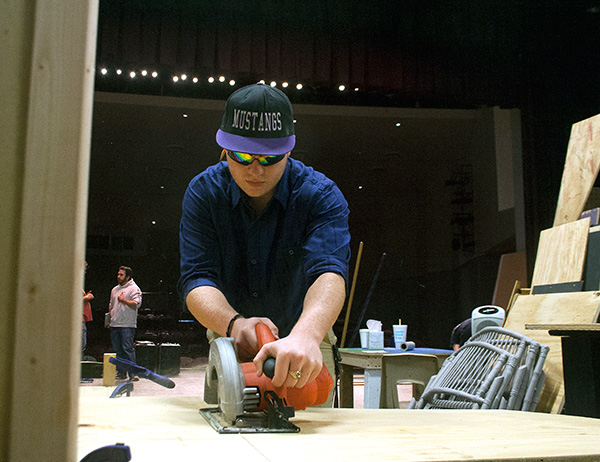 JARED FIELDS • PICAYUNE STAFF
MARBLE FALLS — Students in the Marble Falls High School theater department have earned statewide and national recognition and will showcase their skills in the coming months.
Two actors — junior Corey Bogue and senior Nate Haywood — will compete this summer in Lincoln, Nebraska, at the International Thespian Festival in Duet Acting.
Two other theater department members — sophomore Lupita Mora and junior Siler O'Connor — will be part of the All-State Show as all-state technicians.
Marble Falls High School theater teacher Jon Clark said the honors and recognitions are big accomplishments for their résumès as they all want to major in theater in college.
It's the first time any Marble Falls High School student has been chosen for an all-state performance or qualified to compete at the Thespian Festival.
Clark jokes he's not sure why he gets to have such talented, "over-achieving" students.
"They really like to have their hands in a little bit of everything. Most of them are in 'Fiddler on the Roof,'" he said. "They like being active, and they like competing. They just like to represent our school, and I think they do that very very well."
A Marble Falls graduate himself, Clark is in his second year teaching theater at the high school after being at Marble Falls Middle School in the same role.
"My sophomores I have this year, if they stay in, I will have them for six years," Clark said.
Some of the technicians at the high school are new, but the actors are all students he taught at some point in middle school.
For O'Connor and Mora, the selection to the All-State Show requires tons of work leading up to the event in early December of this year.
The two will drive to the Dallas-Fort Worth area for a two-week camp this summer as well as one weekend a month in the fall.
"Not many kids get to do this. They only picked five stage crew out of the tons that showed up," O'Connor said.
Mora agreed.
"A lot of people don't get this opportunity, and to have two kids in theater from Marble Falls was never expected," she said.
O'Connor said he thinks he was chosen for his résumè in set design and construction from the numerous productions at Marble Falls High School and placing at the state contest. Mora said her versatility probably stood out.
"You always know where to find me — the back of the shop," O'Connor said. "But Lupita can be one minute helping me build the most intricate piece of a set, and then the next moment, she's in the light booth. You never know where she's going to be."
Mora confirmed: "I"m kind of everywhere."
Bogue and Haywood will present their two-person performance this summer after qualifying last November at the state festival. The two earned a composite score of 290 out of a possible 300 to advance.
Haywood, who also is the troupe's president, talked about his final months with the department.
"I finished my last fall production at this school and was pretty heartbroken," he said. "I'm gonna miss this program a lot."
The students have noticed a growing reputation of the program within the school and the community.
"As shows get bigger, they get a better rep, and as the (reputation) increases, more people want to get involved," Bogue said.
And from there, the momentum snowballs.
"I'm crazy lucky because I was not as good a kid in high school, so I don't understand why I get to have such great kids," Clark said. "At some point, it'll come back and it'll bite me in the butt and I'll have a group of Jon Clarks that I'll just want to strangle. But right now, I have the best."
jared@thepicayune.com