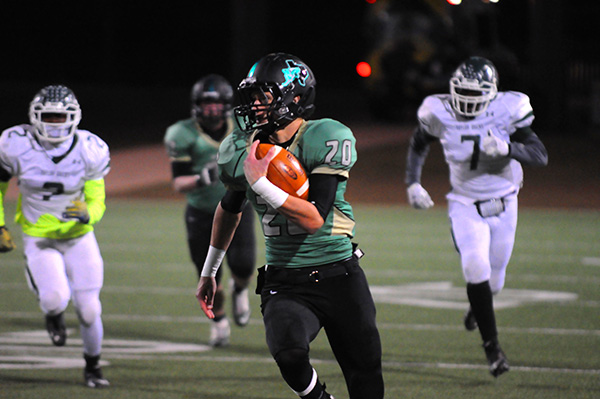 JENNIFER FIERRO • PICAYUNE STAFF
BURNET — The Burnet High School football team is bracing for another run-first offense when the Bulldogs take on Kingsville King on Nov. 21.
The area-round playoff game is set for 7:30 p.m. at Comalander Stadium, 12002 Jones Maltsberger Road in San Antonio. Listen to the match starting with a 7 p.m. pre-game show on KBEY 103.9 FM Radio Picayune or at KBEYFM.com. Check DailyTrib.com after the game for the results.
The Brahmas (7-4 overall, 4-0 District 16-4A) captured their third consecutive district title using a potent rushing attack.
King junior running back Roger Arkadie is the team's primary runner. He has 200 carries for more than 1,100 yards, averaging five yards a carry.
Burnet head coach Kurt Jones said King is similar to Taylor, the team the Bulldogs (9-2, 4-1 District 13-4A Division I) defeated 42-10 for a bi-district championship last week.
"(King) is going to try to control the game and control the clock," he said. "They have a good physical offensive line. We've faced pretty good running attacks and talented backs. It'll be another chance for the defense to play firmly and get some stops."
But he cautioned fans not to think the Brahmas are unable of completing passes. Rather, they are meticulous in when they call for a passing play.
During Burnet's wins, the Bulldogs have allowed an average of 20 points, even against run-first teams such as Waco Robinson, Taylor and Lampasas.
In the Bulldogs' two losses — against Abilene Wylie and Waco La Vega — they allowed 37 points. Both Wylie and La Vega ran the football.
Out of the 10 Taylor offensive drives, the Ducks scored a touchdown after picking up a fumble by the Burnet special teams and hit a 45-yard field goal. The other eight drives resulted in an interception, a fumble, three punts and three turnovers on downs.
So while Taylor had only one three-and-out, the Burnet defense gave up a total of 10 points.
"The name of the game is keeping points off the board," Jones said. "You don't get points for putting up great stats. We've been keeping opponents out of the end zone."
He also noted that when the Bulldogs defense has gotten the ball back for its offense, the offense has made opponents pay.
After Burnet recovered the Taylor fumble on its own four, junior quarterback Austin Moore guided the Bulldogs on a 96-yard touchdown drive that ended with senior running back Eric Walker's second touchdown, a 13-yard scamper.
"The mindset of our defense starts with 'let's get the ball back for our offense,'" Jones said. "From there, it also has to be about points."
He credited the Ducks for shortening the game by using their rushing attack to control the clock in an attempt to keep the Bulldogs offense on the sidelines.
And the coach also credited his players for making the most of their opportunities when they had them, whether it was being ahead of the chains on offense or getting timely sacks, knocking down passes or simply being physical in tackling Taylor ball carriers.
Against Taylor, the Bulldogs had 28 rushes for 243 yards and three touchdowns and completed 13 passes for 247 yards and three touchdowns.
Jones noted that balance will be important against King.
"One of the great things about our offense is you can't just go out and defend one phase," he said.
Different Bulldogs have had great games throughout the season, and the coach said he's looking for that to continue, particularly because the Brahmas give up an average of 20 points per game.
"(Defense) is the strength of their team," he said. "We're going to have to go out and play solid. It's going to be important we force them to play all phases of the game."
jfierro@thepicayune.com