Marble Falls ISD's mobile lunch program reaches Granite Shoals kids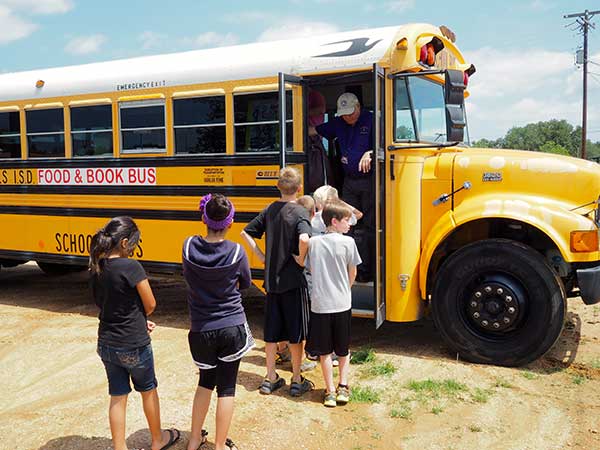 DANIEL CLIFTON • PICAYUNE EDITOR
GRANITE SHOALS — A line of six kids waits outside the bright yellow school bus parked in a lot on RR 1431 in Granite Shoals. It's the middle of June, and the kids are out of school, so the bus seems a bit out of place — as do the waiting students.
The kids aren't expecting a ride to school. Once the bus door opens, the youth bounce up the steps and get a free lunch thanks to the Marble Falls Independent School District's meal program. On this particular day, the kids get a hot, meatball sub, vegetable dippers, a drink and a choice of a few other items. They take their lunch and find a seat toward the back of the bus.
MFISD food service director Mary Davidson smiles.
"We weren't getting the kids coming to us, so we had to do something," she explained.
During the summer, the federal government funds a summer breakfast and lunch program for schools and districts that qualify for free and reduced meals. MFISD offers several sites for youth 18 and younger to receive the meals, but officials realized they weren't necessarily getting many of the kids who needed them.
"My largest need is in Granite Shoals," Davidson said. "Highland Lakes (Elementary School) has the highest percentage of economically disadvantaged kids. But they are the ones I know don't come."
The problem is Highland Lakes Elementary, an obvious site for serving meals, sits on the north side of RR 1431. Children aren't likely to cross the road. And even then, the campus isn't centrally located for many of the youth.
"We wanted to make sure these kids had access to the meals as well," said Eric Penrod, the district's director of curriculum and instruction. "But we needed to come up with a way."
Enter the Mustang Food and Book Bus.
Davidson came up with the idea after speaking to a colleague at San Marcos ISD. The district runs a bus around the community during the summer serving food from it. The idea had merit, Davidson agreed, but wouldn't it take a complete retrofit of a school bus?
"He said it was easier than we thought," Davidson said. The district food service staff cooks and prepares the food at one of its permanent sites, boxes it up and keeps it warm or cool (depending on the food) in coolers and warmers installed in the bus. The district already had the coolers and warmers as well as the bus. To install the food-handling containers, the transportation department removed several seats and replaced them with the equipment (the seats can quickly be reinstalled for the school year).
And now, the district has a rolling cafeteria.
But then, officials thought of something else. Why not toss in a some books the kids can take home, read and bring back?
"If they're going to be there, why not give them a chance to read?" Penrod asked. So after eating, the kids can browse through a selection of books and pick one to take with them.
The bus started rolling June 9. The first day saw little response, but as the week continued, the turnout increased. And that's the key to keeping the mobile lunch program going as well as the regular sites.
"We need kids to come," Davidson said. "If they don't come, we don't get funding."
No funding means no summer meal program.
But the summer meal program isn't just for kids who qualify for free or reduced lunches during the school year or even students. It's open to anyone 18 and under.
The Mustang Food and Book Bus runs Monday-Friday until Aug. 9. Its stops include:
the Granite Shoals Community Center, 102 E. Greencastle Drive, 11:30-11:50 a.m.
El Tapatio parking lot, 6942 RR 1431 in Granite Shoals, noon-12:20 p.m.
Grace United Methodist Church, 4007 Valley View in Granite Shoals, 12:30-12:50 p.m.
The regular sites, which offer breakfast as well, include:
Marble Falls Middle School, 1511 Pony Circle Drive in Marble Falls through June 17, 8:30-9 a.m. for breakfast and noon-12:30 p.m. for lunch.
Marble Falls Elementary, 1909 Broadway in Marble Falls through Aug. 9, 8:30-9 a.m. for breakfast and 11:45 a.m.-12:15 p.m. for lunch
Go to mfisd.ss3.sharpschool.com for more information and menus.
In Burnet, children can get lunches at R.J. Richey Elementary School from 11:30 a.m. to noon weekdays through Aug. 22. The school is located at 500 E. Graves in Burnet. Go to burnet.schoolfusion.us for more information.
In Llano ISD, head to Llano Elementary School, 1600 Orman St. in Llano, and Packsaddle Elementary, 150 Pioneer Lane in Kingsland. The program is 11 a.m.-12:30 p.m. Monday-Thursday. It runs through June 30. Call (325) 248-2263 for more information.
daniel@thepicayune.com