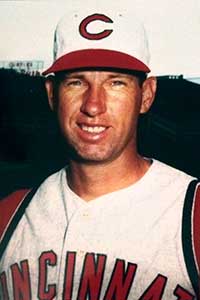 DANIEL CLIFTON • PICAYUNE STAFF
GRANITE SHOALS — When Bill Henry stood on the mound Oct. 8, 1961, at Crosley Field, it wasn't just any ballgame. And he wasn't facing the sluggers from just any ball team. The left-hander from Pasadena, Texas, was staring at the top of the New York Yankees lineup in the fourth game of the World Series.
With his Cincinnati Reds already down 7-0, Henry knew he had to at least keep the Yankees from adding to the defeat. It was the top of the ninth and the Yankees' No. 2, No. 3 and No. 4 hitters were lining up to take a swing at the lefty. This included Yankees Roger Maris and Tony Kubek. Though neither was having a stellar day at the plate as far as connecting with the ball, they knew how to find their way on base.
Henry, who would later settle in Granite Shoals after 16 seasons in the majors and another career in the Houston shipyards, didn't give up anything in that inning as he came in as the reliever.
With is trademark leg kick, Henry sent Kubek and Maris back to the dugout with a strikeout each added to their stat sheet. Then, Yankee right fielder Hector Lopez flew out, ending the three-up, three-down inning for Henry.
Henry would pitch in the next game of the series as well, but it just wasn't to be for him and his Reds as the Yankees won that game as well taking the 1961 World Series in five games.
Still, Henry did something most people only dream about: play in the majors and a World Series.
On April 11, Henry — born William Rodman Henry — passed away. He was 86.
"He was really a great man," said Angela Henry, his former daughter-in-law. "He never really bragged about playing professional baseball. He was just very humble in that way. He didn't have that huge ego you might expect."
Bill Henry leaves behind his wife of 69 years, Betty Lou Sabo-Henry; four sons, Charlie, Jack, Billy and Mark; as well as grandchildren, Brian, Matt, Sarah and Gus. He is also survived by his brother, Jack Henry.
Henry was born in Alice and graduated from Pasadena HIgh School before heading to the University of Houston. A professional baseball scout saw Henry pitching — a softball at that — and the Texan found himself wearing a Boston Red Sox uniform in 1952.
For the next 16 years, Henry played professional baseball, bouncing around a few teams.
During his stint, Henry played in one World Series, two All-Star Games and earned 90 saves. During the 1959 season, Henry played in 65 games, leading the league.
Henry is considered one of the first relief pitching specialists in Major League Baseball. Despite not being a starter, hitters came to respect what the 6-foot 2-inch lefty could do from the mound.
But while he was a big-league pitcher, which invited a life of travel, excitement and stardom, Henry seemed to shun a big part of it.
"I don't think he ever drank more than one beer in a day," Angela said. "When the other guys would go out after a game when they were out of town, he didn't. He would usually go back to his room and call his family."
And while baseball served as his livelihood for 16 years, family was his life.
"He was a man of integrity," Angela said. "He was all about his family, when he was playing and when he left baseball."
Henry wrapped up his career in 1969 as a Houston Astro.
After his baseball career, Henry and his family stayed in Houston.
"What he loved doing after baseball was tying up those ships when they came into the Houston ship channel," Angela said. "And it was something he shared with his youngest son, Mark."
At the heart of everything Henry did was his family. Even in retirement from longshoreman work and settling in Granite Shoals, he always strived to keep his family close. The Henrys split time between Granite Shoals and Deer Park in the Houston area. In both locations, they had family, including their sons and grandchildren.
While Henry didn't seem to seek out the spotlight or attention, he did find himself a little controversy — but not of his making.
In 2007, a Lakeland, Fla., man bearing the same name passed away. This man for many years told people, including his then-wife, that he was Bill Henry, the former Major League Baseball pitcher.
Only, he wasn't. So when he passed away and the media picked up on his death, it wasn't long until the news that former pitcher Bill Henry had died. Even The Associated Press reported Henry's death, believing it was the former pitcher.
An alert genealogist and baseball historian in Boston picked up on the story and noted some differences between the Lakeland Bill Henry and actual pitcher Bill Henry.
"You know, he really wasn't upset about it," Angela said about her former father-in-law's reaction to the other man assuming his identify. "He kind of laughed about it."
However, Bill Henry the pitcher knew the other man's widow must have been racked with grief for the loss of her husband and the news he wasn't the man he had claimed to be for many years. So he called her.
"He just wanted to let her know that everything was going to be all right," Angela said. "That's just the type of person he was. He was a man of Christian faith and integrity. They just don't make them like him anymore."
In April 2012, Pasadena High School inducted Henry and 11 other former students into its inaugural Hall of Fame.
While he will forever be recorded in baseball almanacs, Henry's biggest legacy is the one of family.
"He enjoyed baseball, but he loved his family," Angela added.
daniel@thepicayune.com