Mary Jo (Tatsch) Needham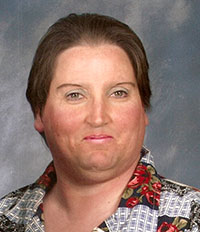 Mary Jo (Tatsch) Needham, 50, of Llano, Texas, passed away Dec. 23, 2012. She was born July 14, 1962, to Charles "Bugger" and Vonda Mae (Norris) Tatsch in Llano.
Mary Jo worked as a cook and a home-health aide during her lifetime. She enjoyed talking with others, gardening, garage sales, pets and riding her scooter everywhere.
She is survived by family members Melcher "Pete" Tatsch of Kingsland, Morlan "Bud" and Sharon Tatsch of Marble Falls, Milford "Rusty" Tatsch, Mandolyn "Bubba" Tatsch and wife Tracy of Llano, Yolanda Jones and husband Marvin of Llano, Zenda Elliott and Mike Bowman of Llano; aunts, uncles, cousins, numerous nieces and nephews; and dear friend Kearby Needham of Llano.
A graveside service is 2 p.m. Dec. 26 at Board Branch Cemetery in Lone Grove with the Rev. Annie Finn officiating. A memorial service will be held at a later date at Grace Episcopal Church.
In lieu of flowers, the family request memorials be made to Grace Episcopal Church, 1200 Oatman, Llano, TX 78643; the Christopher Hospice Home, 2820 E. Martin Luther King Blvd., Austin, TX 78702; the American Diabetes Association, P.O. Box 11454, Alexandria, VA 22311; or to the charity of your choice.
Arrangements by Waldrope-Hatfield-Hawthorne Funeral Home, 307 E. Sandstone in Llano, (325) 247-4300. Condolences may be sent to whhfuneral1@verizon.net or made at www.whhfuneralhome.com.