Faith football faces playoff veteran Christian School of Castle Hills in return to six-man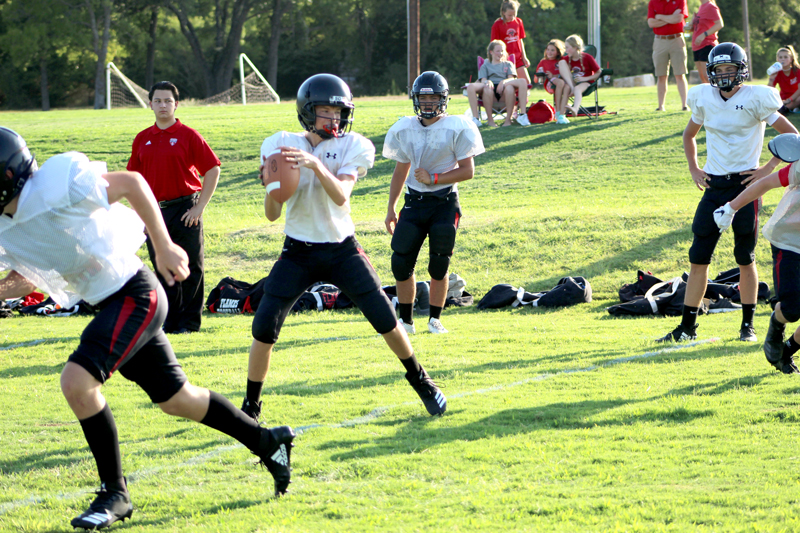 STAFF WRITER JENNIFER FIERRO
MARBLE FALLS — The Faith Academy of Marble Falls football team jumps back into six-man football Aug. 31, facing a team that's a playoff veteran.
The Flames open the 2018 season at home against The Christian School of Castle Hills of San Antonio on Friday at Pony Stadium, 1511 Pony Circle Drive. Kickoff is at 7:30 p.m.
The Eagles are led by running back and defensive back Luke Martin, who had 357 yards rushing and 83 tackles last season. Linebacker Rylan Lurati returns after recording 100 tackles and 231 receiving yards and three touchdowns in 2017. Both lines are anchored by Jacob Polanco.
Faith head coach Jeremy Wentrcek said the Eagle offense looks more like a quasi-spread.
"Martin is a hard runner and has a good arm," he said. "They like to give him the run-pass option."
Stopping the run will be the priority for Faith, Wentrcek said.
Wentrcek noted the defensive side of the ball tends to require more discipline and containment because of how the six-man game is played.
"It's almost like a basketball trapping defense," the coach said of six-man defense.
The Flames are learning the versatile offense that first-year coach Wentrcek brought with him that features a quarterback and a spread back, who each have the ability to throw. The spread back also can run with the football, while the quarterback must throw a pass, and he has only about three seconds.
"The quarterback is the signal caller, and the spread back is very important," Wentrcek said. "He's usually a kid with wheels."
The Flames vying for these positions are sophomores Grayson Poage and Maison Thornley and junior Travis Hughes.
Just as important is the center, who snaps the ball, blocks, then runs to the middle of the field to serve as the safety valve for the quarterback. Will Wilson and Case Coleman are playing center.
"He sits in the open space," Wentrcek said of the center when he releases from blocking duties. "He has to be able to snap a seven-yard shotgun, someone who can move laterally. He has to be able to get in front of somebody."
The new stadium being built on the Faith campus should be ready for the Sept. 14 contest against Austin Royals, the Flames' next home game.
"We're looking forward to having it done," Wentrcek said. "We're practicing at Marble Falls Middle School. Our high school and junior high teams are practicing at the same time."
The Flames ended their fall training camp with a four-team scrimmage Aug. 25 against Fredericksburg Heritage, San Antonio FEAST, and Bulverde Bracken.
Wentrcek said he saw areas of improvement for his players, specifically defense and containing the spread.