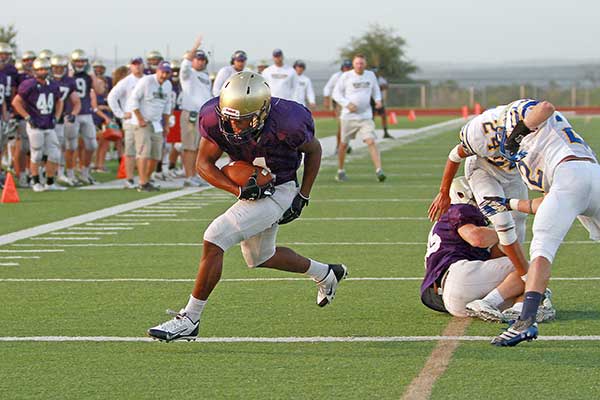 JENNIFER FIERRO • PICAYUNE STAFF
MARBLE FALLS — Few week one football match ups will garner the interest that Burnet and Marble Falls brings Aug. 29.
The Bulldogs (0-0) come to Mustang Stadium, 2101 Mustang Drive, for a 7:30 p.m. kickoff looking to end a three-game losing skid to their county rivals.
On paper, Burnet has every advantage:
returning four of five starters on the offensive line and receivers; returning three of four starters in the secondary
the return of senior defensive end Travis Freeman, after battling ulcerative colitis for the last two years
features senior linebacker Kody Hall, the reining district defensive player of the year
the return of senior speedster Cory Cavender, who spent a year at Cedar Park High
Perhaps Burnet's biggest advantage is continuity. Head coach Kurt Jones enters his third season at the helm and still has Andy McHazlett at offensive coordinator and quarterback coach and Kevin Hall at defensive coordinator and secondary coach.
Mustangs head coach Matt Green, who is in his first year here, said the Bulldogs feature a group of players that epitomize the traits of a solid defense.
"It's very, very scrappy," he said. "They play very hard, they're very assignment oriented. And they typically appear to be in a bad mood."
And while some players did not participate in the scrimmage against Wimberley last week, Jones said that will not be the case against Marble Falls. Coaches will continue to evaluate and monitor throughout the week, but he did not foresee any athlete not playing.
About the only question mark is who will start at quarterback, junior Austin Moore or senior Taylor Barksdale?
"We'll play both of them," Jones said. "We know who'll start."
He wouldn't divulge if the Bulldogs will have special packages for each, simply saying both quarterbacks will get offensive plays.
Green said film reveals the Bulldogs ability to turn most plays into explosive plays, no matter who's at quarterback.
"You put the ball in their hands, and your defense misses, they have the ability to take it all the way," he said. "And they have several of them."
Meanwhile, the Mustangs still have quarterback Brennen Wooten, who returns after throwing for more than 3,000 yards last season, senior center Sam Kohutek, senior lineman Drake Harkins and junior lineman Ryan Becker. Add in senior linemen Hanner Shipley and Jared Shields.
"They have the tools to have a salty offense, and they have a couple of Division I kids who are committed," Jones said. "Their backs are impressive, their offensive line is big, their receivers are capable of catching a lot of balls. Wooten is about as good as we'll see all year."
Defensively, the Mustangs are more of mystery to Burnet, though Jones said he sees speed and a willingness to cover a lot of ground in hurry.
So this game will come down to the same basic elements. The winner will make the fewest mistakes and take advantage of their opponent's miscues, wear down the defense and force his will on the other.
Green said time of possession may not matter because he sees two explosive offenses.
"You're going to have to line up and limit the big plays and force offenses to drive the ball," he said. "Defenses are going to have to create turnovers and force the offense into penalties."
jfierro@thepicayune.com