Marble Falls teachers come back down to Earth with lessons from NASA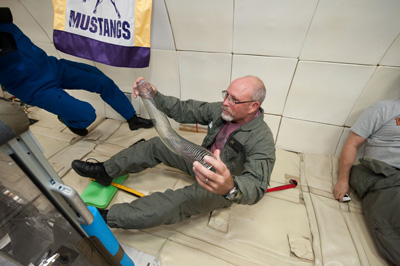 MARBLE FALLS — Marble Falls Elementary School teacher Debby Phillips admitted she had to take her seat during the last few up-and-down maneuvers made by the KC-135A turbojet on its reduced-gravity flight.
After all, there's a reason NASA astronauts affectionately refer to the plane ride and its parabolic maneuvers simulating weightlessness as the "vomit comet."
"But I didn't throw up," the educator said with a laugh.
PHOTO 1: Marble Falls High School teacher David Smith checks out what effect weightlessness has on a Slinky during a flight July 1 on a NASA KC-135A turbojet. Smith and fellow Marble Falls educators Randy Guffey, Debby Phillips and Sasha Chesnut were one of 14 teacher teams selected across the United States to participate in the  NASA program. The four teachers conducted an experiment that measured how fish dissolve oxygen in water in a reduced-gravity environment. Photo courtesy of NASA