Granite Shoals weighs cutting mic on online participation in meetings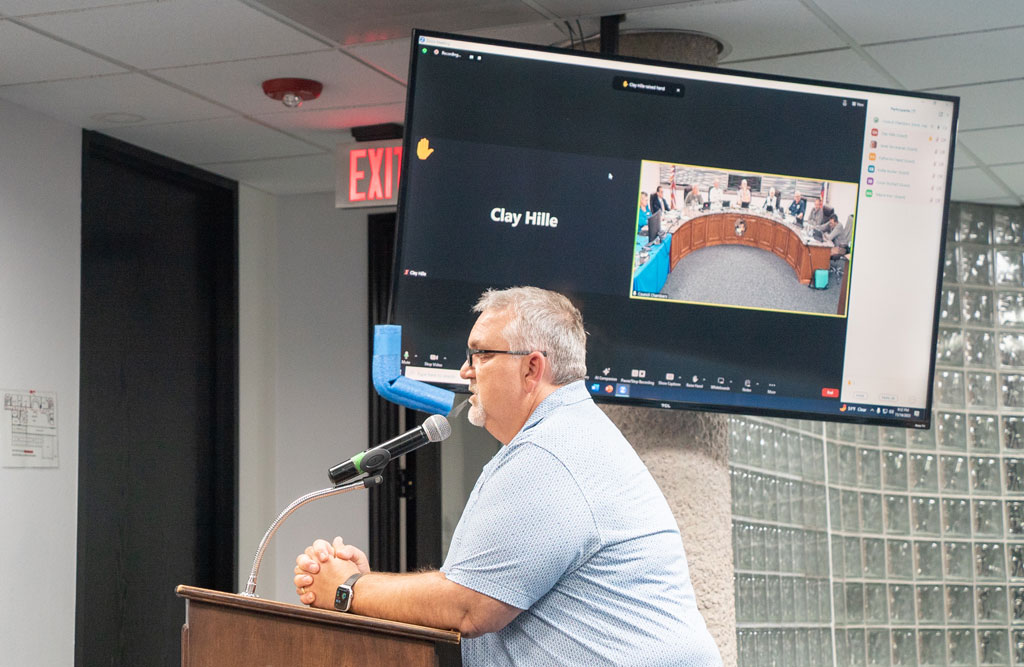 The Granite Shoals City Council on Nov. 14 had a lengthy discussion on the pros and cons of allowing online public participation during government meetings. While no decision was made during Tuesday's regular meeting, the council plans to address the matter again in the near future.
Granite Shoals livestreams all of its public meetings via Zoom, an online meeting application. The app enables livestream viewers to make comments and ask questions during council meetings, which the city has so far allowed. 
Granite Shoals is the only Highland Lakes city to allow online public participation and one of the few that livestreams all of its meetings.
The council ultimately tabled the matter near the end of the 4½-hour meeting without any clear direction. Some councilors and members of the public suggested online participation is a positive asset for the city. Others said it was disruptive and needed to be controlled or done away with.
"We've got some strong feelings on this," said Mayor Ron Munos before moving to table the discussion for later. "I personally don't want to take anything away from the citizens that they have, but adding some restrictions is not bad."
Granite Shoals' Zoom setup is a remnant of the COVID-19 pandemic, when most of the country was on lockdown and public gatherings were limited. According to City Manager Peggy Smith, rigging out the council chambers for online meetings cost about $12,000. The city's monthly payment for Zoom is $50.
To continue online participation and livestreamed meetings, Granite Shoals will have to make some upgrades, she said.
The council generally agreed that the city should continue to livestream public meetings but was divided on allowing online public participation.
"I really like the Zoom, we do have the apparatus in place, I do like the discussion, but I do not like the snide comments that are sometimes expressed after a vote or during a discussion," Councilor Steve Hougen said.
He was referring to instances of online participants chiming in throughout meetings and making derogatory remarks. One such instance took place during an Oct. 11 council meeting when an online viewer said "pathetic" after a vote. The remark echoed throughout the chambers.
Councilor Michael Berg agreed with Hougen. He also supports public comment, but only at the outset of a meeting during the public comment agenda item rather than at any point.
"It's not vote 'Yes Zoom' or 'No Zoom,'" he said, "I think it's Zoom with restrictions."
Councilor Phil Ort spoke out as a clear advocate for online public participation but did acknowledge the issue of poor behavior from livestream viewers.
"We finally have this ability to let people participate in our government, and, yes, I realize there are some people who are abusing Zoom," he said. "But if we could take one step to reach out to more people and get more people involved, and it only costs us 50 dollars per month, then we should be doing that."
A few residents also expressed their views on the matter.
"It's eroding human interactions," said regular meeting attendee Jeff Kahl on online participation. He sits on the city's Ethics Review Commission, Airport Advisory Committee, and Charter Review Committee. "People can hide behind a screen and be critical of those that sit up here and volunteer their time. Engagement is dangerous when it is not used properly."
Brad Hammel, another active resident, who sits on the city's Parks Advisory Committee and Wildlife Advisory Committee, said Zoom was essential to his civic participation.
"I think it's been an invaluable tool for the community to get involved," he said. "I could not do what I do for those committees if I did not have a tool like Zoom."
Resident Robin Deberard spoke passionately about online public participation.
"The beauty of the information age is that we are able to stretch and expand the ways in which we communicate, conduct business, and live in community," she said.
The meeting was punctuated by one online participant, who illustrated points on both sides of the argument. Clay Hillie was called upon by Mayor Munos to offer public comment over Zoom near the close of discussion.
"We still have a voice even though we're not there in person. It's not that we don't care," Hillie said. "We can still express our opinion in our little sneakers and sweatsuits and jocks. It doesn't make us less important."