Area state parks earn their keep
Inks Lake State Park and Longhorn Cavern State Park not only showcase the natural beauty of the Highland Lakes, they also bring in big bucks. Inks Lake State Park generated more than $4 million alone for the local economy, and both parks combined brought in over 300,000 visitors in 2022. 
Inks Lake State Park Superintendent Barrett Durst gave a presentation on the economic impact of the two parks during a Burnet Chamber of Commerce Coffee and Conversations on Tuesday, July 18.
"When you manage natural resources and you do conservation, your bread and butter is recreation," Durst told those gathered at the event.
The recreational opportunities — hiking, fishing, swimming, camping, cave exploring, and more — at Inks Lake and Longhorn Cavern state parks are strong enough to pull in hundreds of thousands of visitors who not only pay park entrance fees but also spend money in the surrounding communities. 
Inks Lake State Park is located at 3630 Park Road 4 West, Longhorn Cavern State Park at 6211 Park Road 4 South. Both have Burnet addresses and are about a 15-minute drive from either Burnet or Marble Falls 
Durst's data broke down the numbers behind the $4 million pumped into the Burnet County economy by Inks Lake State Park in 2022.
Day-use visitors spent an average of $28 per day during their stay, while overnight visitors spent an average of $12 per day. Over 86,000 day visitors contributed $2.42 million, and more than 130,000 overnight guests spent $1.56 million last year. About 15,000 overnight fishing guests threw in another $185,000.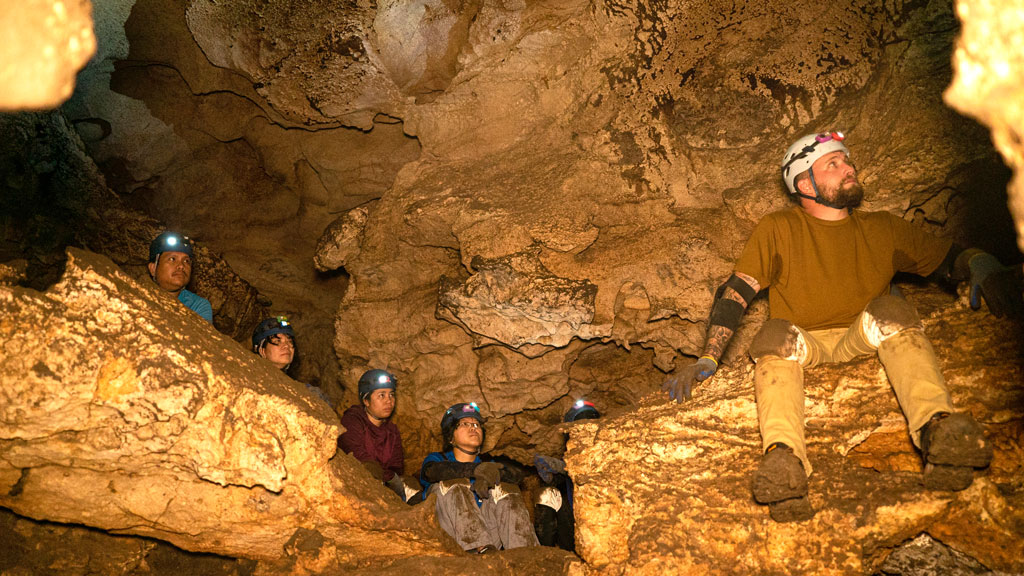 According to further data collected by the Texas Parks and Wildlife Department in 2022, 36 percent of the 309,790 visitors came from the Austin area. The Houston area was the source of 17 percent of the visitors in 2022. 
Inks Lake State Park is the 10th-most attended park out of 88 state parks in Texas. It was also voted the best place to camp by readers of the Austin Chronicle.
Inks Lake and Longhorn Cavern are part of an exceptional network of state parks in the Texas Hill Country that brought in a collective 2.6 million visitors and $36 million to the region in 2022. Texas has a robust state parks system overall that sees nearly 10 million visitors each year and generated $891 million total in economic impact for the state in 2018.
"Our numbers are great compared to other states' parks," Durst said. "Texas has a really good visitation system."
Inks Lake State Park is in the process of adding 2.5 miles of additional trails to its 9.5-mile trail system and building a new visitor center. It recently completed a restroom renovation. The Texas State Parks system as a whole is growing, according to Durst. The November election will include the opportunity to vote on Senate Bill 1648, which would provide $1 billion in funding for the creation of new state parks.