MFISD considers new transfer rules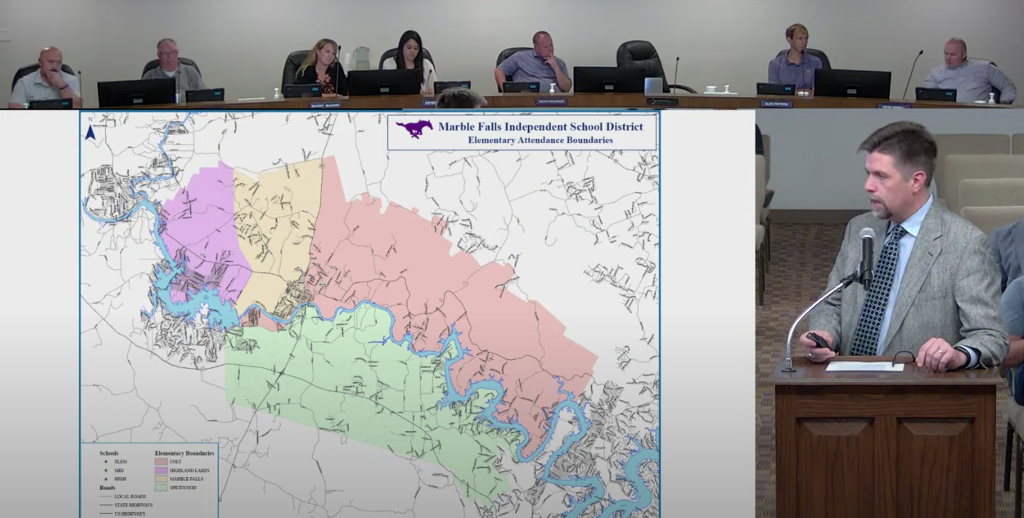 New transfer rules are in the works for Marble Falls elementary students following the school board's approval of redesigned elementary attendance zones last August. The board approved the new zones to help balance attendance levels at the district's four elementary campuses.
Under the new plan, transfer requests for students hoping to go to a school outside of their new attendance zone would be halted until after the first day of school for the 2023-24 school year.
"When I say the first day of school, we will start looking at the possibility of allowing transfers of new students (at that time)," Superintendent Dr. Jeff Gasaway said during a regular meeting of the MFISD Board of Trustees on April 17. "The first day of school doesn't mean we'll finish the first day and say, 'The doors are wide open.' We don't know that."
The decision to hold new transfers from out-of-boundary students until after the first day of school will afford district leaders more time to look at each campus' attendance numbers, Gasaway continued.
"We, a lot of times, see a lot of growth," he said. "What we'll be able to anticipate is do we have enough room to allow new (students) in or do we not."
The Marble Falls district has traditionally been lax about its zoning boundaries, which allowed parents to freely move their children from one campus to another.
"As we've grown in enrollment and campuses have reached capacity, it's hard to rein that back without really causing some issues for families," said Kevin Naumann, school board president. "We want to be sensitive to that side of it."
Fifth-graders during the 2023-24 school year will be grandfathered. During this same time period, younger siblings of fifth-graders will also be allowed to stay at their current school. The district plans to end grandfathering at the start of the 2024-25 school year and require all students to attend the campus in their designated zone.
The district's process for vetting which kids are approved as transfer students will not change.
"Transfer students, as always with any of our transfer students, must maintain good standing, academically, behaviorally, and with attendance," Gasaway said.
Parent Bobbi Shell spoke to board members about how the proposed rule changes could impact her family.
"We have two children, kindergarten and second grade, and we are currently zoned for Colt Elementary," Shell said. "We really enjoy Colt Elementary. We have been rezoned to attend Marble Falls Elementary."
Shell requested the board consider giving equal consideration to transfer requests from out-of-district and in-district students.
"I'm asking that those of us who were originally zoned for Colt (Elementary) and relied on that zone when we built our house, at least be given the same deference," Shell said. "The biased part of me says we should be given priority because when you buy or build a house out-of-district, you assume a risk. You assume the risk of not getting in as a transfer student."
Later in the meeting, Naumann outlined the school board's perspective on the zoning and transfer rule changes to Shell.
"I want to make sure you know that you are heard and we're trying to figure out a way to make this work," Naumann said. "We're just stuck in this situation basically where we have some campuses that are very full and some campuses that aren't at all."
While the board did not elect to vote on the item, Naumann reminded board members of the importance of quickly reaching a consensus.
"That's the challenge," he said. "We need to get stuff out to parents pretty quick, so let's work on this and we can circle back."