Love is patient, love is kind: Two couples share marriage secrets
Two Highland Lakes couples separated by 49 years of marriage recently shared the romance and sometimes rough reality of maintaining a relationship. Their stories opened small windows into the hearts of their marriages, and, despite the multi-generational gap, The Picayune Magazine discovered that the views through those windows are surprisingly similar.
JEAN AND TOM RAPP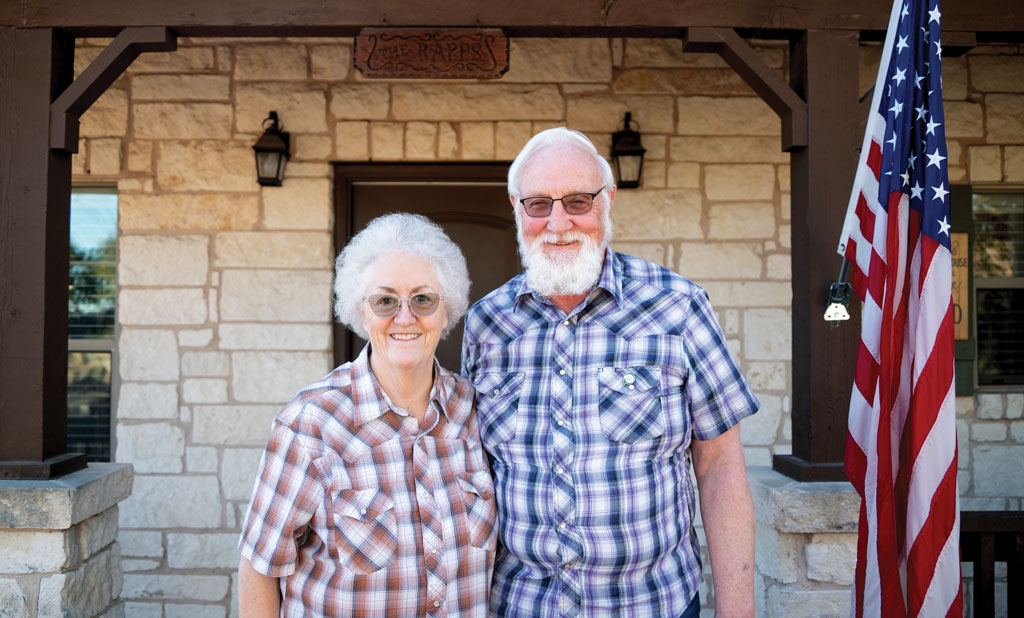 Jean and Tom Rapp met in San Diego in 1972. They were both in the U.S. Navy at the time. As the Vietnam War wound down, Tom became a reserve and took a job selling correspondence courses in computer programming. A lead came across his desk that he thought he recognized as a telecommunications tech he had seen around the naval base.
"I got this sales lead, someone inquiring about computer programming, someone named Jean Cadman, and it had a radioman rating on it. But with the name, I thought it must be a girl," Tom said. "I thought on the off chance that this was that really pretty (Navy) Wave, that I'd do this one myself. I didn't give it to the guy I was training that night. She answered the door, and she was basically an answer to prayer."
He ended up selling Jean the correspondence course and, like any good salesman, also sold himself. They went on a date the very next day, a precursor to what is now almost a half-century of marriage. That was in March 1972. They were married in July 1973. By the way, Jean also ended up with a 40-year career in computer programming.
The Rapps had a small backyard wedding at Tom's father's home in Denver. Jean's mother bought her a $35 wedding dress from a JCPenney's store. The couple provided mints, nuts, and punch for their guests. The honeymoon was a road trip across the Southwest with no itinerary before they settled in Denver.
"It was nice," Jean said of the honeymoon. "We just drove wherever. It wasn't planned. We didn't even plan a place for the wedding night, we just found a place. People feel like they need to have this exotic vacation somewhere, but we didn't feel that way."
Tom, now 76, and Jean, 72, have two children and four grandchildren. They moved to Marble Falls two years ago, feeling called to the community after passing through on a trip to visit family.
What is the secret to your success?
Tom: I tell her I love her every day. You keep building the marriage. We're still building our marriage today.
Jean: And I tell him I love him every day. We value experiences over things.
What has been the best era of your marriage?
T: Today! I know I sound like a smart aleck when I say that, but I really do look forward to waking up in the morning and being with her every day.
J: I've enjoyed our time together after the kids left. As our kids were growing up, we thought every day was just getting better, and that has continued.
What was the hardest era of your marriage?
T: Be careful with finances. In those middle years, we didn't have any savings and our debt was building up. That can be really hard on any marriage, or even just life.
J: It's possible to become a stranger when you both have your own jobs. Make time to see each other and spend time together.
How do you solve disagreements?
T: It's called compromise. I don't always have to have my way and she doesn't always have to have her way. We just respect each other and the fact that we each have our own rights, but we have responsibilities to each other as well. Couples get in trouble when they start keeping score.
Do you have any advice for newlyweds?
J: Forgive, have grace and mercy. They're not always going to be perfect, darn it.
T: Realize that if you're not perfect, neither are they. If you expect them to cut you some slack, you've got to cut them some slack. Marriages aren't born; they're built every day.
J P. AND SOFIA HERNANDEZ
Sofia and J P. Hernandez grew up in the Highland Lakes just a few miles from each other. Sofia was a Burnet girl; J P. was from Granite Shoals. She was a Bulldog; he was a Mustang. They have been married for two months.
"We met at my house," Sofia said. "I had a few friends over, and it just clicked when I saw him. My cousin grew up around him, and they were neighbors, so it's weird that I would never have met him after growing up with her."
The couple bonded over board games, dogs, and a shared respect for family. They took things slowly, dating for two years and seven months before getting married. They were each other's first "I love you" and the first dates to be introduced to the parents. With declarations of love and meeting the parents out of the way, the floodgates opened.
"We decided to go slow, saw that the pieces fit, then we got married really fast," J P. said.
He ordered a ring, asked her parents for permission, and ran to her front door the day the ring was finished. They were married six months later.
Over 200 guests were at their outdoor wedding in Buchanan Dam. Family, friends, and the community came together to celebrate the young couple's big day.
"It was an awesome night, and we still talk about it all the time," Sofia said.
Sofia is 23; J P. is 27. They have two dogs and live in Marble Falls.
What is something that really changed after getting married?
Sofia: I always felt like I was more independent, but when I met J P. and he stole my heart, I had to learn how to be with somebody else and share my life with somebody else.
J P.: I didn't feel alone like I did before. Now that I have Sofia as my partner and my wife, we're in this world together, and I feel whole.
What do you admire about each other?
S: I admire how devoted he is and how caring he is. He takes a step back and lets me do my own thing, and when I'm ready to open up, he is always there to listen to what I have to say. He's just an awesome guy. He is really nice, and he would do anything for me.
J: She loves her family, she respects her parents, and sees that I respect my parents, so I feel like we match. We have mutual respect for family. I want someone that's nice, who could make a good mother to our future children.
How do you resolve disagreements?
S: "If we ever fight about anything, it's mostly one of us having a bad day and getting an attitude. It's just small things, no big arguments. We took a marriage communications course before we got married and that helped a lot. When we catch ourselves arguing, we'll usually catch ourselves and work it out. Or, we just separate and have our time apart until somebody builds up the courage to talk about it.
What advice do you have for other young couples thinking of marriage?
J: It was a dream to get married. If you trust a person and you really love them, it would be best to get married now that you're young. Start at a young age. Set your goals together.
S: Choose a person that you can grow with in the future. Make sure that it is somebody you can build a future with. Life is too short. You never know what is going to happen. So, why wait?