Marble Falls Area EMS fish fry 'one of the best ever'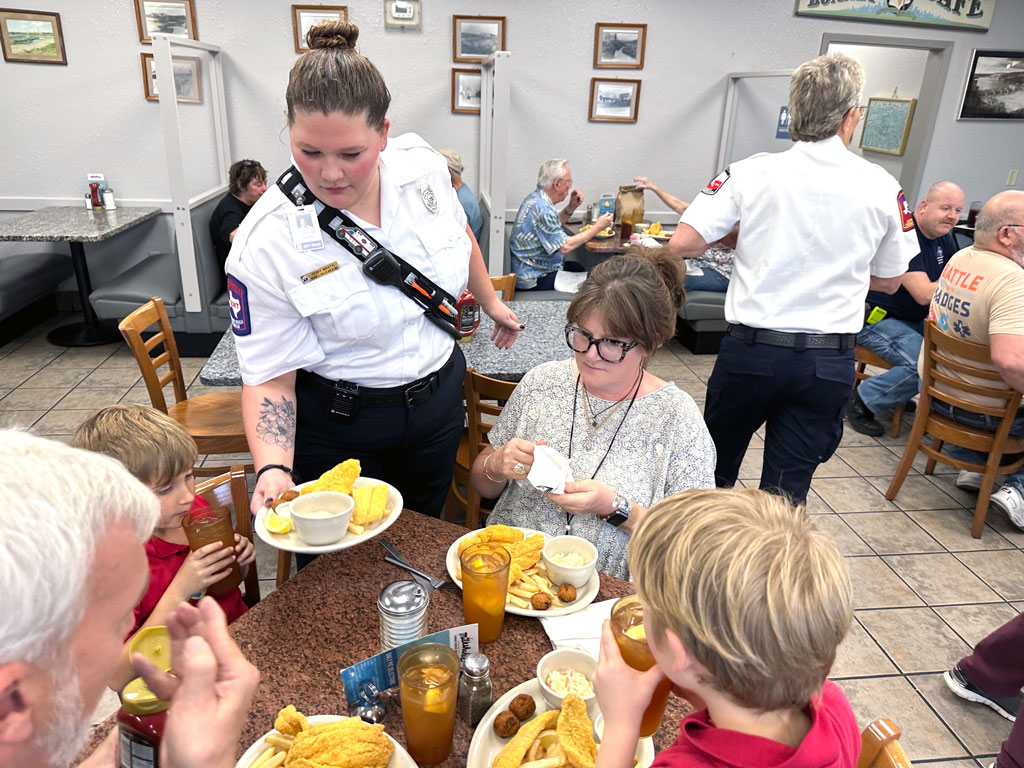 Catfish lovers and Marble Falls Area EMS supporters packed Blue Bonnet Cafe on March 1 for the bi-annual fish fry fundraiser.
"This was one of the best years ever," EMS Executive Director Johnny Campbell said.
The event raised $10,250 to buy equipment and supplies for the local EMS. It is the first of two fish fries held each year. The next one is Oct. 4.
First responders and local officials always help by waiting and busing tables. The menu is limited to catfish, hush puppies, french fries, and coleslaw for just $10 a plate. Of course, since it's at Blue Bonnet Cafe, diners can also order pie (at an extra cost).
Blue Bonnet Cafe has hosted the event for more than 30 years, and it is a favorite of diners.
Rich Helland and Debi Lightfoot of Marble Falls are regulars and were seated and eating at 4 p.m. when the fish fry started. They came early "to beat the crowds," they said.
"It's a good cause, a very good cause," Lightfoot said. "And the fish is delicious. That's an added plus."
Ken and Kathy Walker of Meadowlakes, also repeat diners, came early "because we were starving." They also expressed delight over the quality of the meal as well as the cause.
A repeat server, EMS first responder Jane T. Hooks has as much fun working the event as the diners have partaking in the fried fare.
"It's a good time to get out in the community and see all the people we serve who come out to support us," she said. "This is what really helps keep us running every year, being a nonprofit. This makes sure we have all the supplies we need, and getting to socialize with the community, it's really nice."
KBEY 103.9 FM Radio Picayune is another repeat attendee. The local radio station has been broadcasting live at the fish fry for the past 20 years. Operations Manager Ben Shields has been behind the microphone at the event for the past 15 years. With fish fries every first Wednesday of March and October, that's 30 live broadcasts. 
"EMS has always been important to this community," Shields said. "KBEY has always wanted to be a part of it, and they are always appreciative that we are out there."
The best part is seeing the different people coming out to support the EMS.
"There are a lot of repeat customers but always new faces, too," Shields said. "What they know is this is a vital organization to the community. People set their calendars by it. They know the first Wednesday of March and October is fish fry day at the Blue Bonnet Cafe."