Marble Falls closer to district title after win over rival Burnet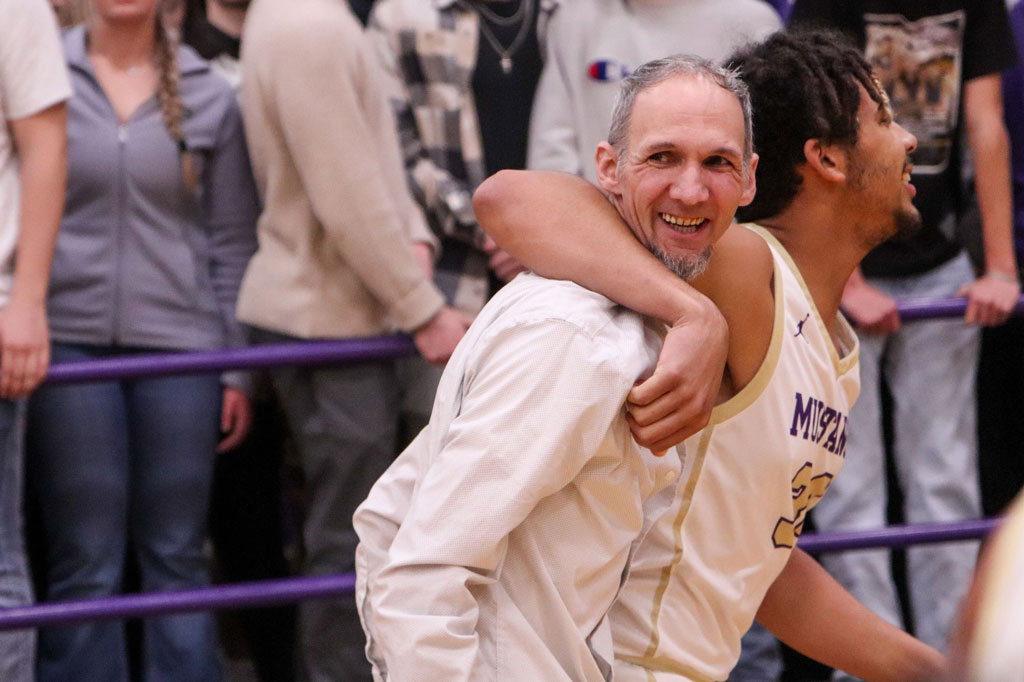 The Marble Falls High School boys' basketball team appears destined to clinch a regular season district championship for the first time since the 2004-05 season after beating the Burnet Bulldogs 51-31 on Friday, Feb. 10, in a District 24-4A home game at Max Copeland Gym.
Marble Falls (13-17 overall) is now 5-3 in district. Burnet (15-16) falls to 5-4.
A rivalry game, both teams relied on the energy of each of their rambunctious fanbases to propel them throughout the contest.
"The crowd was fantastic," Marble Falls head coach Travis Crain said. "It was great to see The Max with some energy."
Scrappy from the first tipoff, the two Burnet County squads battled back and forth to start the game. After giving up two early 3s, the Mustangs responded with a tough contact layup from junior guard Jaime Castillo.
Fouled on the play, Castillo sank the free throws to put the Mustangs within one score.
Marble Falls sophomore guard Tidus Willie continued the momentum from Castillo's layup with a lay-in to grab the lead along with a step-back 3 to ignite the crowd.
The Mustangs ended the first quarter leading 12-6.
Willie continued his dominance in the second, barreling to the basket for multiple layups and scoring 10 points in the quarter.
A hustle play by Castillo while chasing a loose ball at half court midway through the second quarter, which led to an assist by the junior guard to sophomore Garen Jones, added to the Mustangs' lead. Shortly after, Jones hit an additional 3-pointer to put the game at 26-13 with a minute left in the half.
The Bulldogs gained new life in the third quarter after a couple of errant passes by the Mustangs' guards led to transition looks for the Burnet offense.
Following the errant turnovers, the Mustangs buckled down and opted to rely on quick drives to the paint to create open looks on the perimeter. The strategy proved effective, leading to a couple of 3-point shots along with several strong drives to the rim in the quarter for the Mustangs. The Mustangs ended the third quarter leading the Bulldogs, 42-21.
With one quarter to go in the game, Crain elected to slow the pace to suffocate the Burnet offensive attack. Unable to fight back, the Bulldogs struggled to find momentum as the game came to a close.
Willie led all scorers with 24 points in the game. Jones followed with 15. Castillo and junior Kody Smith both contributed with five points.
Following the 51-31 win, the Mustangs take on the Jarrell Cougars (16-12, 4-5 district) to end the regular season on Tuesday, Feb. 14. If victorious, the Mustangs will clinch the district title.
The Bulldogs finish their season against the Lampasas Badgers (16-16, 5-4 district) on Feb. 14.