Planned chapel at Burnet women's prison in final fundraising phase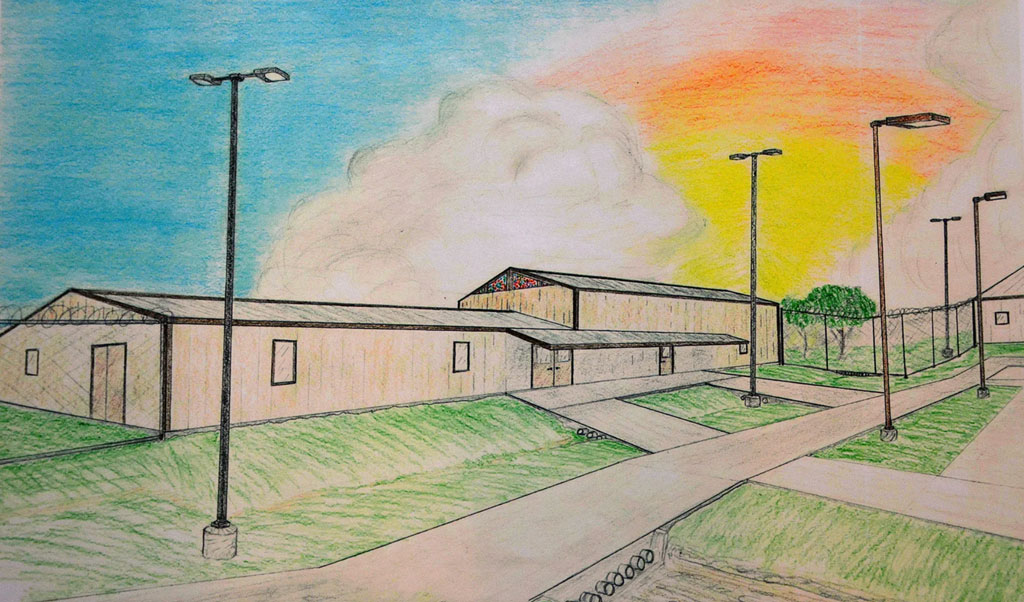 After nearly five years, Joseph's Hammer is entering the final phase of fundraising to build a chapel for inmates at the Ellen Halbert Unit women's prison in Burnet. The group hopes to raise an additional $700,000 to meet its goal of roughly $2.35 million for the project.
Rather than hold an event, Joseph's Hammer is asking churches and individuals to donate directly on the nonprofit's website.
"We're fanning out and asking everyone for help," said Pam Stevenson, chair of Joseph's Hammer. "We've been knocking on doors and going to churches to get the word out. People are so ready to help on this when they realize what it is."
Once complete, the 8,450-square-foot chapel will be able to seat nearly 350 people for services. It also will be a place for inmates to play and learn together. The complex will include a 3,500-square-foot sports court, four classrooms, and a library.
Stevenson came up with the idea for the chapel several years ago while driving home from the prison after volunteering for a bible study.
"It was a long drive, and I was kind of commiserating because so many ladies in our little class told me they wished their roommate could have came but there wasn't enough room and they had to be put on a waiting list," Stevenson said. "We know, to this day, it's gotten even worse because they've reduced the number of classrooms we could use. Now, (inmates) even have to be on a waiting list to go to church."
For years, the prison, which has an inmate capacity of 612, has relied on classrooms in other parts of the facility for worship spaces.
"When the state built the prison in 1995, they ran out of money before they built the chapel that was supposed to be there," Stevenson said. "In the evenings and weekends, when they're not using the classrooms, they've been borrowing these little classrooms from the education wing."
Stevenson said many of the inmates at Ellen Halbert are first-time offenders. Additionally, the prison is a state-run rehabilitation center for people struggling with substance abuse.
"It's really a special prison," she said. "It's not like any other ordinary prison you would think of."
The nonprofit raised the majority of the project's funds by presenting its case for a prison chapel to Highland Lakes churches and residents.
"The place has been out there for 27 years, and nobody noticed there was no chapel and no place for worship," Stevenson said. "Our community has sat here, with that little place in the cedars, and completely ignored it. I'm pleading for the community of faith to step up and get this done."
A large portion of donations for the chapel came in during 2020 at the height of the COVID-19 pandemic.
"God just pulled out all the stops and money started coming in," Stevenson said. "It was a miracle."
Since the chapel will be built on highly secure state property, plans for the site were mandated by law to include components such as copper piping and additional fencing.
"It's not like a normal commercial building we're putting up there," Stevenson said. "It has to be to (state specifications) and not normal commercial (specifications)."
These additions, along with inflating markets, have contributed to the overall price of the project.
"The prices of everything we have to use is pretty inflated, just based on the times," Stevenson said. "Nevertheless, we are fully approved and we've got all the plans knocked out."
Plans for the project were vetted for free by Austin-based construction management firm Impact Commercial Services, which helped the nonprofit identify ways to save on pricey construction costs.
"They're in the last phase of finding any ways to trim the budget at all," Stevenson said. "So far, they feel like our budget is about as tight as it can be."
The organization broke ground on the chapel in September 2022. Actual construction is anticipated to begin early this year.