MFISD improves campus safety, security; active shooter drill planned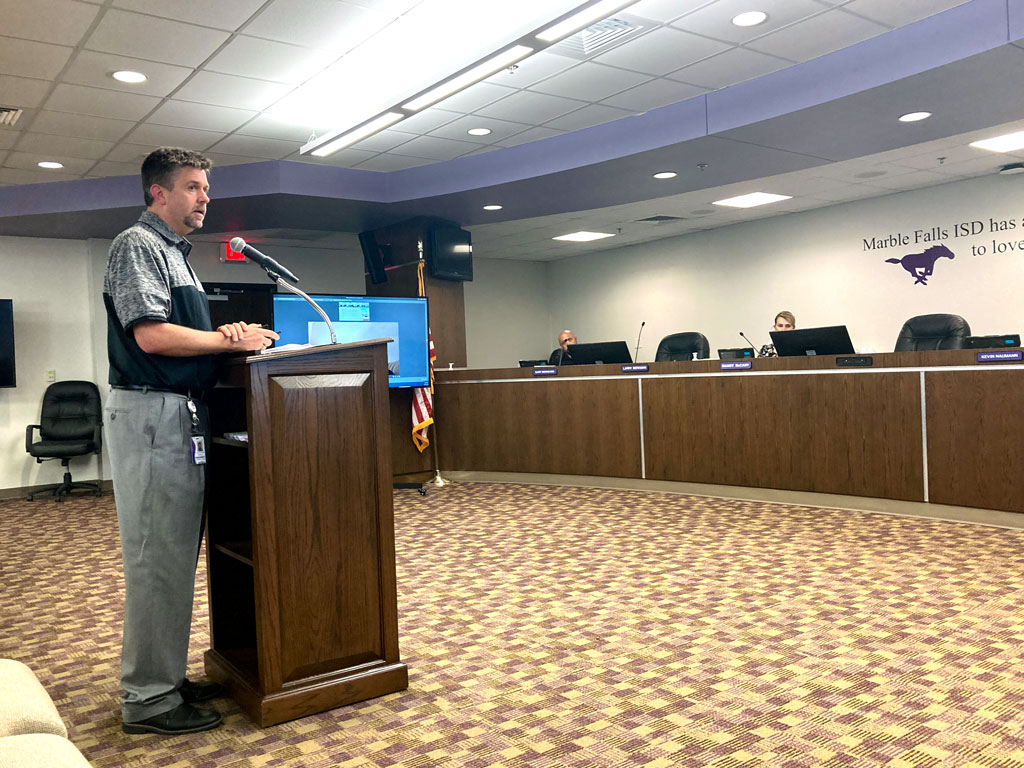 The Marble Falls Independent School District plans a comprehensive active shooter safety drill in the fall that will include campuses, law enforcement, and Baylor Scott & White Medical Center-Marble Falls.
MFISD Superintendent Chris Allen spoke about the drill during the Board of Trustees' regular meeting Monday, June 13.
"It would be a good way to test how the hospital responds and the city as well," he told the board. "This could be a community-wide exercise when we're done with it."
The board also heard an overview of all safety measures the district has put in place since 2019 from Assistant Superintendent Jeff Gasaway. He reported that all new staff members, including bus drivers, maintenance, and cafeteria workers, now receive at least five full days of safety training.
"The board policy talks about 20 hours. We give them five days," Gasaway said. "The goal is for all new staff to be trained within one month of joining Marble Falls ISD."
Substitute teachers are also subject to the safety protocols. Since 2019, the district meets with substitutes each summer to ensure they are properly trained.
"It used to be you were a sub, you fill out a piece of paper, you get to come back," Gasaway said. "Now, we're meeting with them annually, and every year we're talking about safety training."
MFISD has worked to improve relationships with local police departments and other first responders to be prepared in case of an active shooter situation. The district now has two school resource officers and conducts seven cluster drills each semester.
MFISD also partnered with the Cottonwood Shores Police Department to use its K-9 unit on campuses.
"It's good for them, it's good for us," Gasaway said. "If nothing else, it tells our students: Don't bring things that don't need to be at schools."
Technology also plays a big role in student safety. Each campus is now equipped with a panic button that automatically locks all doors on notifies local law enforcement when pushed.
"The panic button also comes with a lockdown notification system that notifies staff members on their mobile phones in the event of an active shooter," Gasaway said.
Additionally, in 2018, the district adopted the Guardian Program, which arms a handful of staff members with concealed guns.
"There's a lot of the Guardian Program we don't go into specifically to protect the guardians and the safety of our buildings," Allen said. "It is not a secret program. You can view the policy (online in its board policy manual). It describes the policy the board adopted and that we have armed personnel on campus."
The district is confident these measures will help protect students and staff.
"We're going to continue to look at opportunities and ideas related to strengthening safety and security," Gasaway said. "We tend to not wait on bad things to happen to be what leads us to making decisions. These are things we've been doing and working toward."