HOOPS ROUNDUP: Two teams enter the playoffs, two others advance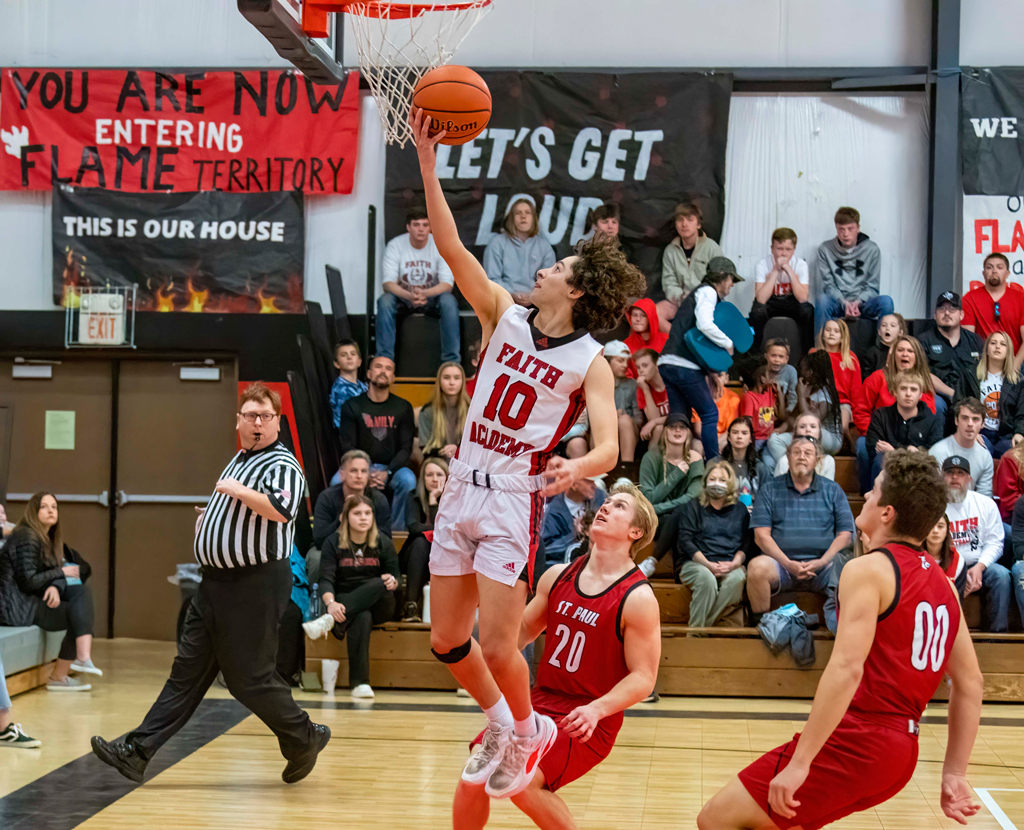 The high school playoffs are well underway with four Highland Lakes teams in the mix, two coming off of playoff wins and two jumping into the fun. However, one local team's season came to an end with a postseason loss.
On Feb. 18, the Burnet High School girls beat Madisonville 61-51 in the second round of the University Interscholastic League Class 4A playoffs. The same day, the Faith Academy of Marble Falls Flames defeated Shiner St. Paul 74-42, while the Lady Flames lost to Halletsville Sacred Heart 62-34 in the Texas Association of Private and Parochial Schools Class 2A playoffs.
Entering the playoff picture this week are the Burnet Bulldogs and the Smoking for Jesus Eagles.
Three teams take the court Tuesday, Feb. 22.
The Flames (10-8 District 4-2A) host Galveston O'Connell (20-7) at 6 p.m. at The Fire Pit, 3151 RR 1431 in Marble Falls.
The Lady Dawgs meet Lake Belton at 6:30 p.m. at Pflugerville Connally, 13212 N. Lamar in Austin.
The Bulldogs face Giddings at 6:30 p.m. at Hutto High School, 101 FM 685 in Hutto.
On Thursday, Feb. 24, the Eagles (18-9 overall, 10-1 Texas Christian Athletic League) meet Houston Banff at 10 a.m. at Duncanville Fieldhouse, 1700 S. Main St. in Duncanville.
BURNET GIRLS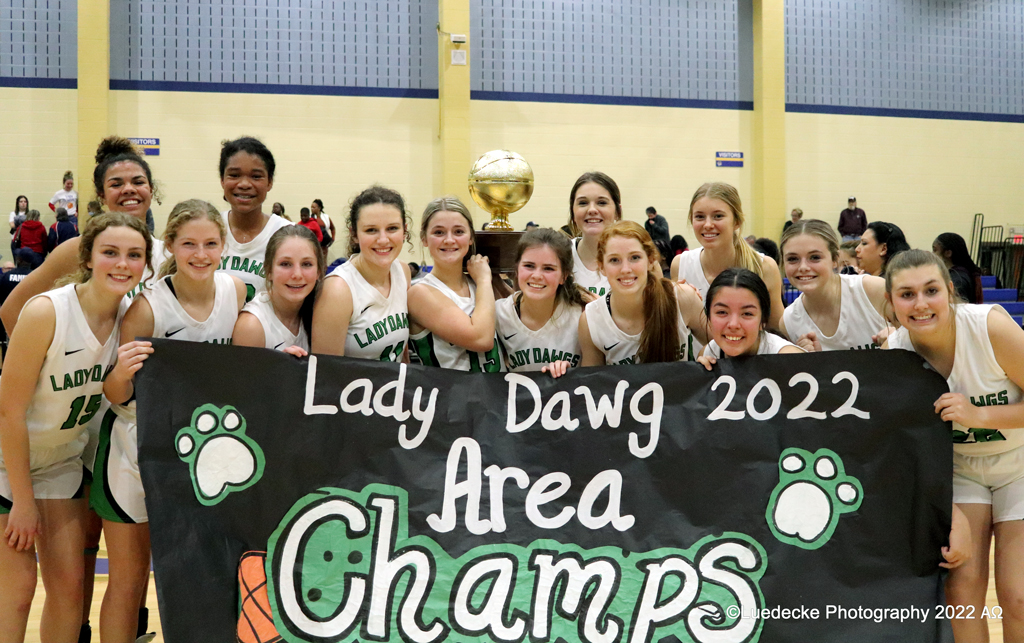 After taking a 26-25 halftime lead over Madisonville (13-11 overall, 7-3 District 18-4A) in the area round, the Lady Dawgs (17-12, 8-0 District 19-4A) built a 45-32 lead in the third period. Burnet eventually rolled to a 61-51 victory, its 11th win in a row.
Head coach Rick Gates liked how his team started. He credited Madisonville for limiting the Lady Dawgs leading scorer, senior Sydne Massoletti. But going into the contest, Burnet was prepared for that, so coaches challenged the sophomore posts MaeSyn Gay and Zaria Solis to take control. Solis led Burnet scorers with 20 points, while Gay added 10. Junior guard Grace Gates contributed 14 points.
"Hats off to Madisonville for doing a good job of limiting our leading scorer," Gates said. "They're a good team, and they did not quit. The big thing we did in the second was a much better job of clearing the defensive boards. Zaria and MaeSyn had 16 rebounds each."
Another key was the Lady Dawgs' ability to handle Madisonville's press, Gates said.
"We had a fantastic third quarter," he said. "We went into the fourth quarter up 13 points and pushed it to 18 at one point. One of the keys was we broke their press early, and they got out of it. But when we pushed the lead to 18, they jumped back into it. And we didn't handle it as well in the fourth quarter. They stole the ball a few times, and we gave up a few layups.
The Lady Dawgs meet district foe Lake Belton in the quarterfinal game. Burnet swept the Lady Broncos (22-10, 3-6) in district.
BURNET BOYS
After winning the District 19-4A crown, the Bulldogs enter the postseason hungry for more success.
Head coach Roy Kiser couldn't praise his players enough.
"It feels great to see a group of hardworking, high-character kids earn this achievement," he said of the district title. "And they had to earn it because our district was so tough from top to bottom."
He credited seniors Lawson Lucky and Joseph Fitzsimmons for setting the tone throughout the season with valuable leadership.
"Both of them made big contributions on a bi-district championship team last year, so they helped the others understand what it takes," the coach said. "Secondly, this team has great chemistry. There is no selfishness, and they care about each other."
FAITH ACADEMY BOYS
The Flames made a clear statement in their postseason debut, outscoring St. Paul in every quarter. Faith led 17-11 after the opening period, 46-23 at the half, and 63-35 going into the final quarter. The Flames never allowed St. Paul to find an offensive rhythm and were always in control of the contest.
"That was something we talked about (throughout the week)," head coach Zakk Revelle said.
The big surprise was Faith's deadly outside shooting. The Flames hit six 3-pointers in the first half. Sophomore guard Gabe Lopez knocked down three, while senior guards Case Coleman and Dylan Offutt and sophomore guard Diego Chavira each had one.
Vital in the win was the Flames making quick passes in the half-court offense to an open teammate and then the shooter hitting the basket, Revelle said.
"It's a big deal," he said.
Revelle commended junior post Brock Davis and junior forward Will Lewis for their contributions on the court. Davis excels on the offense and is the rim protector on defense. Lewis takes pride in guarding opponents' best players.
Davis led the Flames with 36 points followed by Lopez with 23.
FAITH ACADEMY GIRLS
Meanwhile, the Lady Flames' season ended against the No. 1 team in the TAPPS Class 2A poll: Halletsville Sacred Heart.
Freshman post Hadley Shipley led the Lady Flames with 11 points and seven rebounds, while sophomore post Morgan Weems had eight points and seven rebounds, sophomore forward Claire Poage had six points, junior guard McKenzie Ahrlett had four points, sophomore guards Elleson Lehmberg and Charlee Ehrig each had in two points, and sophomore guard Ella Cozby had one.
SMOKING FOR JESUS
After winning the Texas Christian Athletic League state title in football, the Eagles (18-9, 10-1) took that same winning attitude and commitment to the hardwood and haven't missed a beat, assistant coach Charles Frazier said.
"They picked up right where they left off," he said. "It's definitely an honor to coach these young men and see them develop. We've come back from 24 points down. We've cut a 20-point lead down in no time. All year, we've been a second-half team."
Smoking for Jesus is led by junior guard Isaac Legier, who is averaging 26 points a game, senior shooting guard Marvin Glaspie III, junior guard Jonathan Frazier, and senior forward Charles Frazier Jr.
"Isaac is a driver to the hole," the coach said. "You either have to foul him or he's going to make it. Jonathan is an outside shooter. He nails down the 3-ball; he has ice in his veins. Marvin averages 10 points a game, but he's my defensive guy. Charles is the Dennis Rodman of the team. His rebounds will be between 12 to 15 a game. He cleans up the glass."
TCAL set up a three-day tournament for the postseason. The Eagles earned the top seed based on their district record. They take the court first at 10 a.m. Thursday against Banff. The winner plays in the semifinals at 1:30 p.m. Friday, Feb. 25, while the loser plays at 10 a.m. Friday. Those games are at Duncanville Fieldhouse, 1700 S. Main St. in Duncanville.
The state championship is at 6 p.m. Saturday, Feb. 26, at Trinity Christian Academy, 1231 E. Pleasant Run Road in Cedar Hill.
"(Our players) will be ready to roll," Frazier said. "They play for this. The seniors are trying to get a football and a basketball state championship."