Programmed to win: Faith Academy students in world Botball competition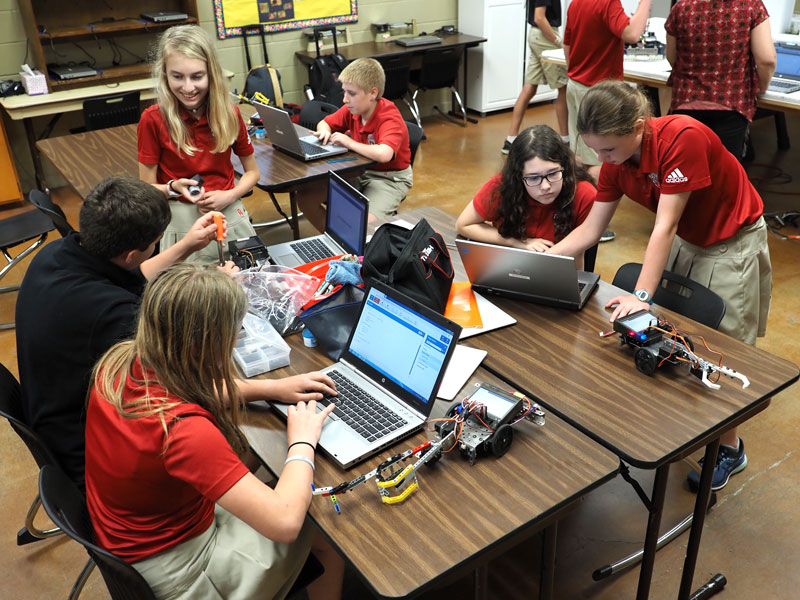 EDITOR DANIEL CLIFTON
The Faith Academy of Marble Falls robotics team swept the Texas Region Botball Tournament, winning first place and earning a trip to the Global Conference on Educational Robotics, where they'll take on the world.
"We were undefeated," said Faith Academy science teacher and Botball coach Nancy Parmeter.
The students were the only middle school squad at the April 6 regional tournament at Waltrip High School in Houston. They took first in the documentation part of the tournament as well as first in the seed and double-elimination rounds to advance to the global competition, which is July 7-11 in Norman, Oklahoma.
At the global event, Faith Academy will face the best squads from across the country and around the world.
Created by KISS Institute for Practical Robotics, Botball is a competition in which students design, build, and program robots to complete tasks on a table set up with a specific scenario.
Botball organizers create a new scenario each year to challenge the teams.
"It's different every year. That way, a team from last year doesn't have an advantage," Parmeter said. "Everyone is on equal footing."
One thing it's not, she explained, is Battle Bots, a competition with robots trying to destroy each other.
Robots must complete tasks on their own.
"These aren't remote-controlled," Parmeter said. "Nobody is controlling them; they are completely autonomous. That's why I like Botball: The kids have to build a completely autonomous robot."
At this year's global competition, robots will need to be able to handle a natural disaster scenario. The tabletop layout features a town made of cardboard cylinders and rectangles for buildings, small wooden people, foam balls for water and other natural elements, the mayor, who is trapped on the roof, and Botman, who is trapped on another roof.
Students program their robots to perform a certain task on the board. They could choose to rescue the mayor, which means the robot moving from its starting spot, avoiding obstacles, arriving at the correct building, then, somehow, getting the mayor to safety.
Whatever task the robot is programmed to perform, a team earns points based on completion and degree of difficulty.
The more difficult the task, the more points, Parmeter said.
While the basic tabletop layout has been the same at all competitions this year, Parmeter said judges wait until right before a team puts their robots on the table to assign which buildings are on fire, which are flooded, where the mayor or Botman is stranded, and any number of problems.
"So they aren't programming for one set of things," Parmeter said. "You have to program (the robot) so it can figure out what it's supposed to do."
Faith middle school student Micah Anderson explained that the robot "sees" a red and yellow square on a building with a camera and knows that building is on "fire." If the robot detects a building but no red and yellow square, it would need to move on until it finds a fire.
One task Anderson is programming a robot to perform is to reconnect downed power lines. The power lines are two pieces of string hanging from a 12-inch PVC pole with a metal washer tied to them.
The robot moves into position, then, with a grip extension, reaches out, picks up one downed power line, and places it back up (a magnet holds the metal washer). Once it has one power line connected, the robot moves to the second one.
"That's a more difficult task, so it's worth more points," Parmeter said.
In a demonstration, the robot did not manage to get the second power line reconnected. Anderson picked it up and returned to a nearby computer to work on its programming.
"And, it has to be consistent," Parmeter said. "It might be able to do it one time, but it has to do it again and again. Also, different tasks call for different programming and even different parts for the robot."
Before setting a robot on the table during a competition, the team has to come up with a strategy and program for it.
While some of the middle school students in Parmeter's Botball class took an elementary-level robotics course, not all of them did. Several started Botball with no robotics, coding, or design background at all, but now they're headed to the global competition.
Along with robotics and coding, students learn other science, technology, engineering, and math skills, which are important in today's world.
But the class and competitions help the students in a number of other ways, Parmeter said.
"They learn problem solving and not to give up," she said. "But you know what I think is one of the most important things? They are learning teamwork, how to work as a team. That's so important."