More revealed about potential new Marble Falls City Hall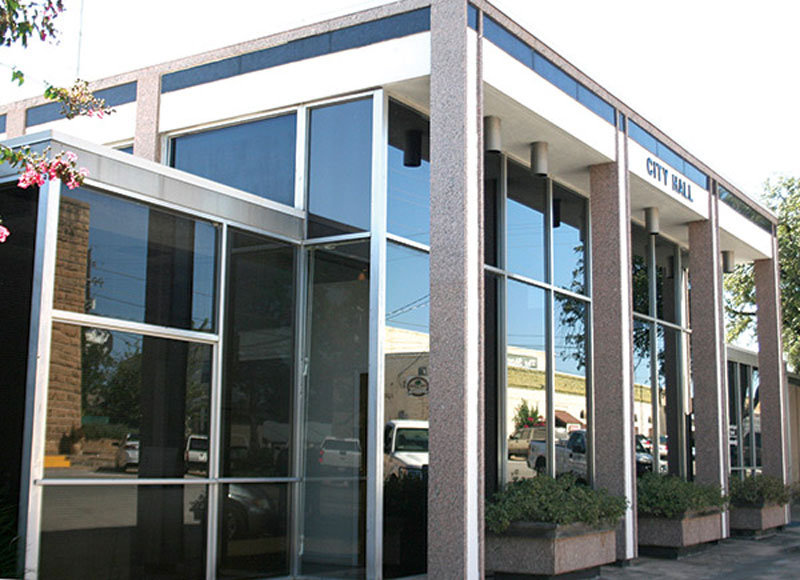 STAFF WRITER JARED FIELDS
Details of a potential new Marble Falls City Hall emerged April 17 during the Tax Increment Reinvestment Zone board meeting.
A new building for city business has long been part of the Marble Falls Capital Improvement Plan, which looks ahead through 2023. The Capital Improvement Plan shows a nearly $4.4 million project with no location or building size determined.
What the city proposed during the TIRZ board meeting offered more insight. First, the city identified the empty lot on Avenue J between Second and Third streets as a potential location for a new City Hall with parking. The proposal included renovating the area along Whitman Branch to add private developments as well as a new City Hall on the creek.
The private portion of the possible project is what TIRZ board members would discuss funding for at a future meeting in July.
The current City Hall building, 800 Third St., was built as a bank in the 1950s. Moving City Hall to a new location would mean the the Third Street building would be sold and return to the tax rolls, generating tax back to the district. The city also aims to move Development Services into a new City Hall, which also would put its current building, located at 801 Fourth St., back on the tax rolls.
Currently, the City Hall and Development Services buildings, as well as the empty land along Whitman Branch, generate zero tax revenues for the city.
City Manager Mike Hodge said City Council needs to hear the same details and discuss the issue. Then, the TIRZ board can discuss in July if it indeed wants to use TIRZ funds for part of the possible project.
"We need to understand how it affects us in total moving forward," said board Chair Kyle Stripling.
TIRZ funds this year are being spent on improved sidewalks, rails, and parking in the downtown district.
"Dollars spent on existing infrastructure and buildings come before a new City Hall," Stripling said. "But if (City Hall) is multi-use, it makes the argument easy because we increase the value of the taxable base in the zone."
Also during the meeting, board members heard updates on a number of other projects within the district, including:
• the possibility of adding a traffic circle at First Street and Avenue H;
• the proposed hotel and conference center receiving more interest from investors and having an operator that is not being named publicly at this time;
• the Hays Addition Boat Ramp nearing completion with the final steps expected to be finished later this week or early next week;
• and the arch over Third Street off U.S. 281 going out for bid. Once bids are received and one is awarded, the arch could be complete by the end of summer.