Hill Country Memorial earns eighth Healthgrades award for outstanding patient experience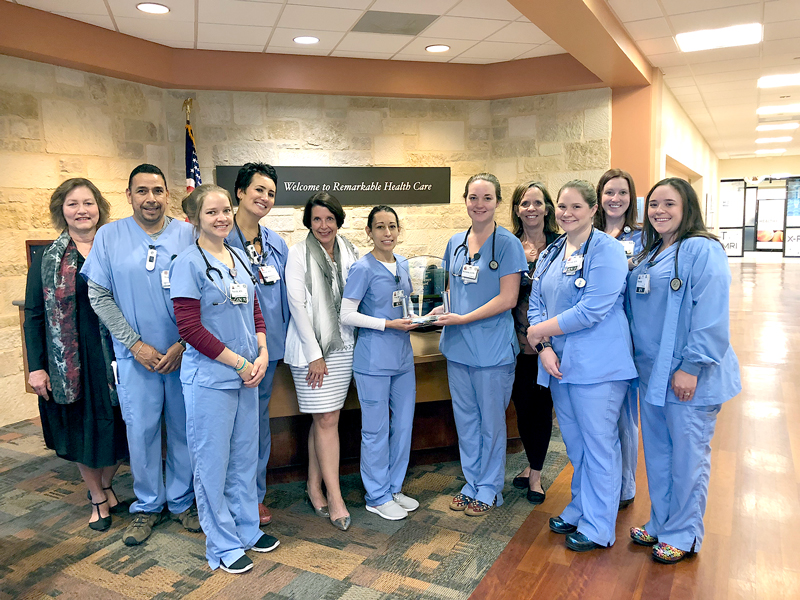 FREDERICKSBURG — Hill Country Memorial recently earned its eighth consecutive Outstanding Patient Experience Award from Healthgrades, a national health care quality rating institution.
According to Healthgrades, Hill Country Memorial is one of 12 hospitals in Texas that are among the top 5 percent of hospitals nationwide to be recognized for outstanding patient experience.
"Above all, this recognition is a direct result of our daily commitment to our community to provide better than exceptional care right here in the Hill Country," hospital CEO Jayne Pope said. "With every encounter — from the routine to the emergent — we have a responsibility and a calling to make every experience a positive one."
For its analysis, Healthgrades evaluated 3,478 hospitals that submitted at least 100 patient experience surveys to the Centers for Medicare and Medicaid Services, covering admissions from April 2016 to March 2017, to identify hospital performance in this area. Hospitals must also meet eligibility requirements, including clinical performance thresholds, in addition to the minimum of 100 survey responses.
Almost 3,000 hospitals met those requirements with 439 hospitals outperforming their peers — based on their patients' responses — to achieve this distinction.
Healthgrades evaluated hospital performance by applying a scoring methodology to 10 patient experience measures using data collected from a 32-question survey of the hospital's own patients. The survey questions focused on patients' perspectives of their care in the hospital. The topics of these questions ranged from cleanliness and noise levels in patient rooms to factors such as pain management and responsiveness to patients' needs. The measures also included whether a patient would recommend the hospital to friends or family.
"To receive this recognition once is notable," Director of Patient Experience Holly Schmidt said. "To receive it eight times is nothing short of remarkable. Our team is truly dedicated to and invested in providing the best patient care day after day and year after year."
To provide an outstanding patient experience, Schmidt noted that Hill Country Memorial offers things such as pre-operative education classes and guidebooks, specially designed boards in every patient room to share timely information between patients and care teams, and even to-go containers of homemade soup for joint replacement patients who will soon be discharged.
The organization also seeks continual patient input through its Patient Family Advisory Council and its "ratings and reviews" website.
The award results are included in findings released in the Healthgrades 2018 Report to the Nation, which demonstrates how clinical performance continues to differ dramatically between hospitals regionally and nationally.
Hill Country Memorial has hospital and clinic locations in Fredericksburg, Marble Falls, Johnson City, and Llano.
For more about HCM, visit hillcountrymemorial.org.