Mining opponents vow to continue lawsuit after AG opinion favors TCEQ permit process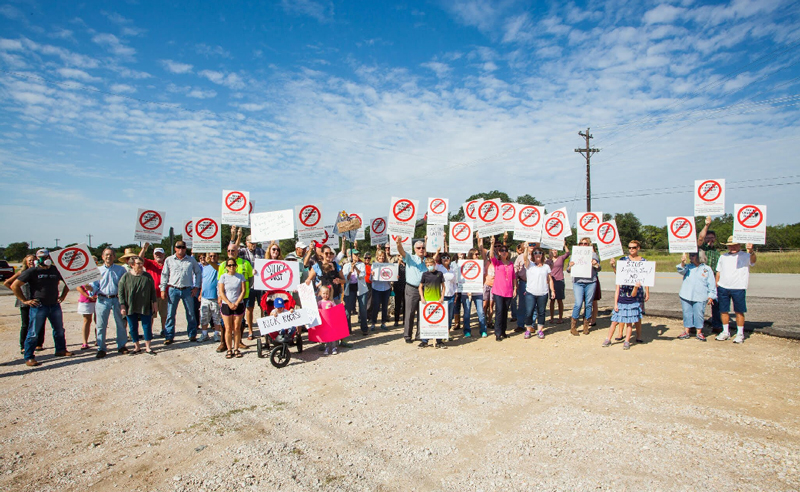 STAFF WRITER CONNIE SWINNEY
AUSTIN — Opponents of a planned rock crushing facility south of Marble Falls vowed May 17 to continue with a lawsuit aimed at halting mining operations, despite the Texas attorney general's defense of the state's permitting process.
Lawyers for Attorney General Ken Paxton's office defended the Texas Commission on Environmental Quality's approval process in an opinion request stating TCEQ "could likewise be precluded from considering local zoning, land use, and other ordinances on standard permitting decision. …"
A state lawmaker's inquiry prompted the attorney general's opinion, while an anti-mining lawsuit looms in the 201st Judicial District Court of Travis County.
That legal action, filed in January, will pit the city of Marble Falls, Marble Falls 300 (Gregg Ranch Development), and private property owners Grant Dean and Paul King against TCEQ in a debate about what the plaintiffs see as the disregard for local consideration in permitting.
In response to the attorney general's opinion, the Texas Municipal League, representing the city of Marble Falls, released a statement that Paxton and TCEQ have "lost sight of the fact that localities have an important role to play in safeguarding their residents from pollution problems faced by their communities."
One of the plaintiffs in the lawsuit said the attorney general's opinion renewed his vow to continue the court battle.
"We're moving forward with the lawsuit," said Dean, spokesman for the Texas Environmental Protection Coalition, and one of two private property owners listed in the lawsuit.
"The attorney general is entitled to his own opinion, but that's not what we believe," Dean said. "That remains to be proven in court."
The legal action specifically disputes TCEQ's granting of an air quality permit for Asphalt Inc. to build a rock crushing plant southwest of the U.S. 281-Texas 71 intersection without consideration for community recommendations, future residential development, or environmental concerns.
Cities including Marble Falls, Horseshoe Bay, and Round Mountain, property owners, and the nearby Baylor Scott & White Medical Center-Marble Falls launched a months-long battle against TCEQ in 2017, which included an online commenting period, staged protests, rallies, and petitions asking TCEQ to deny Asphalt Inc.'s permit and review the state's regulatory and permitting practices.
Despite the contentious response, TCEQ approved Asphalt Inc.'s air quality permit.
In April, the 518-acre piece of property in question was listed for sale by Austin-based Orberg Properties.
The pending lawsuit stems from the proposed rock crusher, but it also challenges the TCEQ's permitting process and how it monitors compliance of the permit.
"Unfortunately, this isn't the first time that a city's attempt to protect its residents from the harmful effects of air pollution has been thwarted," Texas Municipal League said of the attorney general's statement.
In 2013 and 2015, the city of Houston, armed with municipal air quality codes, went head to head with rock crushing operations in legal proceedings that eventually resulted in a Texas Supreme Court ruling against the municipality.