Marble Falls boys soccer coach Rick Hoover named athletic director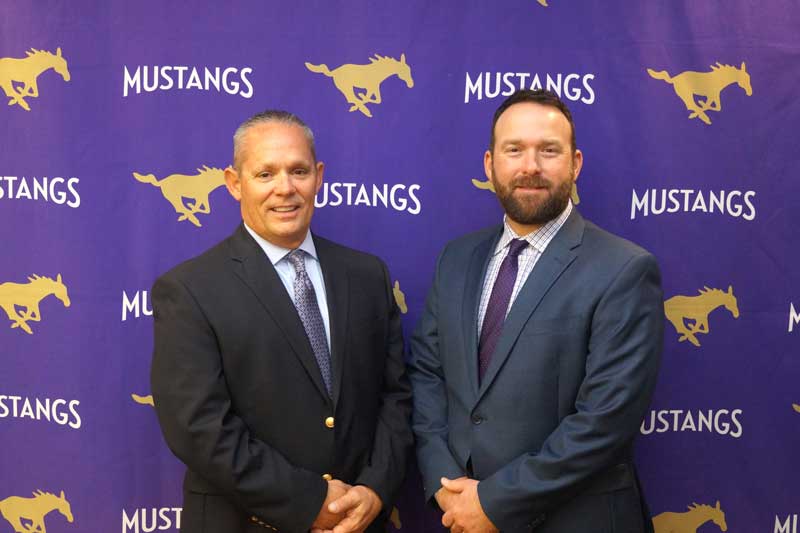 STAFF WRITER JENNIFER FIERRO
MARBLE FALLS — In a state where American football rules, Marble Falls Independent School District has kicked the athletic director position over to the other football.
MFISD Superintendent Chris Allen named Marble Falls High School boys head soccer coach Rick Hoover to the spot. Mike Birdwell, who has been serving as interim athletic director and head football coach, will remain in his coaching position and also serve as the high school boys coordinator. Birdwell guided the Mustangs football team to a 3-7 record this past season. He accepted the interim jobs in June after previous athletic director and head football coach Matt Green took the same positions in the Llano Independent School District.
Hoover, who sought out the athletic director position, will remain the boys head soccer coach.
The announcement was made Dec. 18 during the school board's regular meeting.
Allen said Hoover's experience made him the ideal choice for athletic director. He's worked in youth sports, as a middle school coordinator in the Frisco Independent School District, as a high school head coach, and with athletes on the collegiate and professional levels.
Hoover has been with Marble Falls since 2014. Last year, the boys soccer team played to an 18-2-6 overall record, finishing second in District 26-5A and winning a bi-district championship.
"One could argue he's been the head coach of our most successful boys' program," Allen said.
The superintendent outlined three specific goals for the new athletic director:
• serve as a mentoring guide for other coaches;
• provide alignment for youth sports to middle school sports to high school sports;
• and create expectations, structure, and accountability for the development of all athletes.
Allen noted the last one is "special" to him.
While there's a long tradition in Texas of the head football coach serving as the athletic director, particularly in school districts with only one high school, it's not unheard of for school districts to separate the two positions. Waco Midway, which is playing for the Class 6A Division II state football championship, is an example. During Lake Travis High School's five state football title runs from 2007 to 2011, the head football coach also wasn't the athletic director.
What most successful programs have is a work ethic that begins early, Allen added.
"They are winning because they have really good athletes who've had specialized focus in training since the sixth grade," he said. "They're making every athlete bigger, stronger, faster to the best of their abilities. I need someone to work on the overall development of athletes and administration of athletics from a big-picture perspective."
The head football coach will spend his time focusing on the football program, while the athletic director will have a specialized focus on developing young athletes so they're prepared to be successful at the high school level, Allen said.
"It's all about creating a structure that puts our coaches in position to be successful," he said.
Under Birdwell's guidance, the football team earned its first district win since 2014 by beating Seguin 35-21 on Oct. 27.
Birdwell's rapport with his athletes and coaches makes him the ideal head coach for the Mustangs, Allen said.
"Mike has shown an ability to work with kids in a way that gets their investment, energy, and commitment," he said. "We're going to change around our philosophy around a lot of things and see if we can help."