May is Motorcycle Awareness Month in Texas, so look twice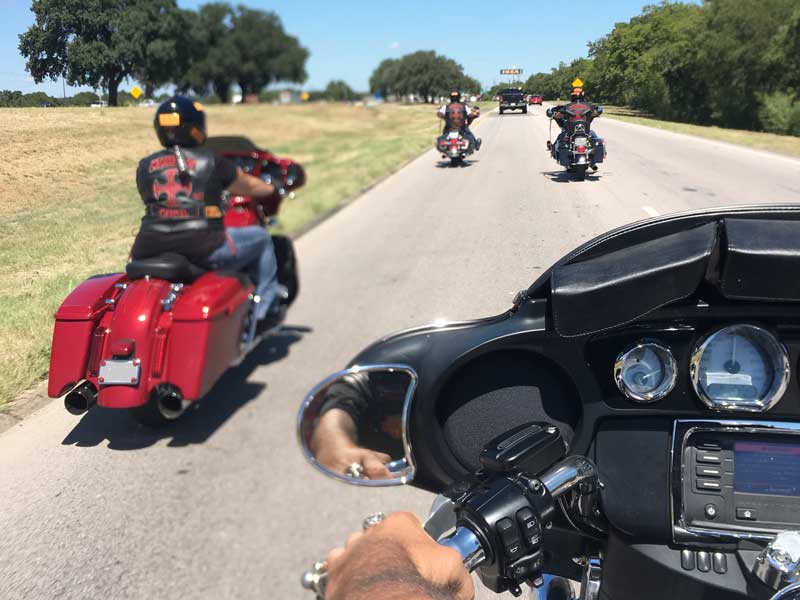 EDITOR DANIEL CLIFTON
MARBLE FALLS — As a motorcyclist, Michael Taber knows what it's like to go unseen on the road.
"Motorcycles have a smaller profile, so people don't always see us," he said. "Or, they don't realize how close we are, and, you know, that can be a problem."
A big problem, because when a car or truck and motorcycle collide, the motorcycle typically loses. According to Texas Department of Transportation statistics from 2015 to 2016, the number of motorcycle fatalities jumped from 464 to 493 and crashes causing serious injuries to motorcyclists climbed from 1,902 to 2,006.
The highest number of motorcycle crashes typically happen in the summer.
"We just want people to be aware that we're out there," Taber said.
He and other motorcyclists have been visiting Central Texas city councils to share the message of drivers needing to look out for motorcyclists. Several councils, including the Burnet City Council, have signed proclamations recognizing May as Motorcycle Awareness Month.
TxDOT has also launched "Share the Road: Look Twice for Motorcycles" in an effort to remind drivers to watch for motorcycles.
One thing Taber notices while riding his motorcycle is other vehicles often get too close to motorcyclists.
"You have to understand, road conditions for us are totally different than for a car," Taber said. "A pothole, a car can go right over, but it could take us down."
The same is true for objects on the road such as dead animals or trash. If a motorcyclist goes down, takes evasive action, or has to stop quickly, a car traveling closely behind them can strike the motorcycle and the rider.
Even on perfect conditions, a motorcycle has a much shorter stopping distance — due to its weight — than a car or truck. Taber said if a motorcycle suddenly stops, a car traveling behind it might not have room to brake before hitting the motorcycle.
Taber also knows it's not always the car or truck driver's fault.
"I've seen motorcycles following right on a car's bumper or weaving in and out of traffic," he said. "It takes both (motorcyclists and other drivers) to make the roads safer for everyone."
The "Look Twice" mantra also includes pulling onto a roadway. A motorcycle, with its lower profile, can be harder to see or drivers might misjudge how far the motorcycle is from the intersection.
"A lot of times, someone has pulled out in front of me because they didn't see me or realize how close I was," Taber added. "And, a lot of times, people will misjudge us in their mirrors because we look a lot smaller and they don't realize how close we really are."
Taber also asks that drivers give motorcyclists their room in a lane. Sometimes, larger vehicles will edge over into a lane while a motorcycle is in it.
"Even though a motorcycle is smaller, it gets the full lane, just like a car," he added.
State officials pointed out that motorcyclists are more vulnerable to injuries, even death, as a result of a collision.
"Part of our responsibility as motorists is to always be aware of other vehicles on the road and give them plenty of space," said TxDOT Executive Director James Bass in a media release. "Motorcycles are particularly vulnerable because they can be difficult to see and don't have the standard safety features found in cars and trucks. On a motorcycle, even a relatively minor collision can be fatal, so we're urging drivers to please keep an eye out for their fellow motorists."
TxDOT's "Share the Road: Look Twice for Motorcycles" campaign reminds drivers to:
• always use turn signals;
• give motorcycles plenty of space and don't follow too closely;
• check mirrors before changing lanes;
• and give motorcyclists a full lane.
Go to LookTwiceTexas.com for more safety tips.