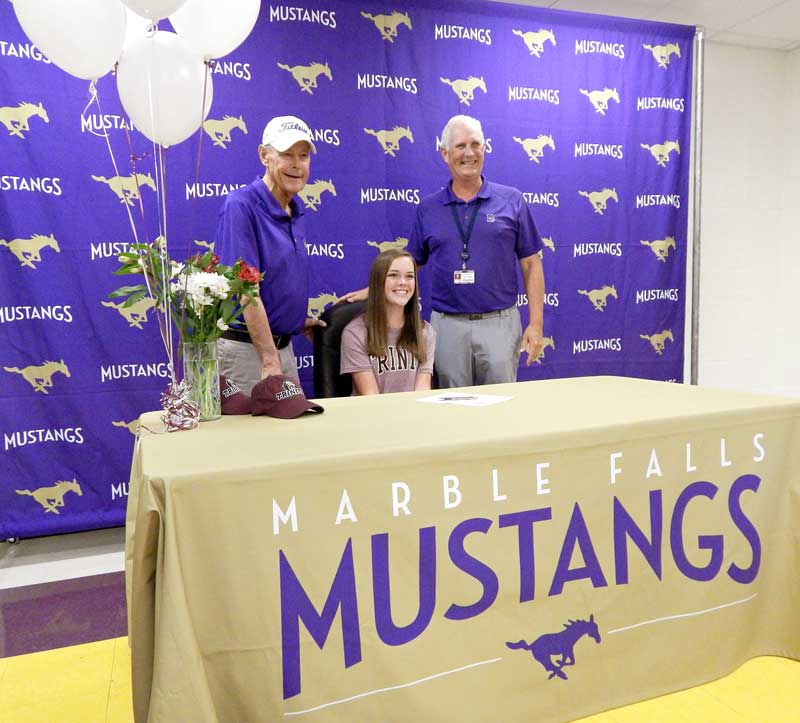 STAFF WRITER JENNIFER FIERRO
MARBLE FALLS — Instead of slowing down Marble Falls High School senior golfer Delaney Kelley, a car crash during Spring Break sent her on a tear, which eventually led to her signing a letter of intent May 4 to play the sport at Trinity University in San Antonio.
Taking a left turn into a business on U.S. 281 South near the Texas 71 intersection, Kelley was struck by a vehicle traveling north.
Luckily, she walked away with only scrapes, but the scare made her focus on her future, including the rest of the Lady Mustangs' golf season.
She scored seven top 10 finishes in nine tournaments.
"It made me a lot more careful about driving," she said about the crash. "I didn't do anything super crazy. Something just clicked over Spring Break."
"Really, her scoring came together after Spring Break," Marble Falls head golf coach Lonnie Tackitt said. "It's one of those things. She was hitting the ball so well. I wasn't going to change anything. The only thing we worked on was alignment."
Kelley chose Trinity University more than a year ago but only recently decided to play college golf.
"I didn't envision playing golf there," she said. "I was thinking to myself, 'It'd be cool to play golf there.' I ended up doing really well at district. Coach Tackitt ended up calling (Trinity head coach Carla Spenkoch). She ended up calling me saying she wanted me on her team."
Kelley finished fourth at the District 26-5A tournament with a two-day total of 160 to advance to the Class 4A Region IV tournament.
She showed what she could really do during the latter part of regionals. Entering the final round, she was tied for 20th. She finished tied for sixth, just two places short of advancing to the state tournament. She had 15 chances at birdie putts with eight of those 10 feet or less from the hole.
"(Trinity) coaches were excited about Delaney," Tackitt said. "After regionals, they were really excited.
"You have to get the skills developed to hit the shots you mentally picture," he added. "When it all comes together for Delaney, like it did in the second round of regionals, she'd go do it. It was amazing."
Kelley said part of picturing the perfect shot involves studying the hole, the weather conditions, and then picking up the club.
"Honestly, a good amount of thinking is involved," she said.
One part of her game she is proud of is her ability to keep one bad shot from turning into a series of bad shots, which demonstrates her maturity level. That, she said, involves having a short memory.
Her best 18-hole total is a 73, and her personal best for two rounds is 156.
The daughter of Jack and Emily Kelley will major in engineering science.
Kelley having the opportunity to play on the next level after a fantastic season doesn't surprise Tackitt.
"I knew it was there," he said. "It's just tougher to do it in tournament conditions. It was no surprise. We knew she could do it in a tournament."