Marble Falls has head start on UIL concussion data-sharing requirement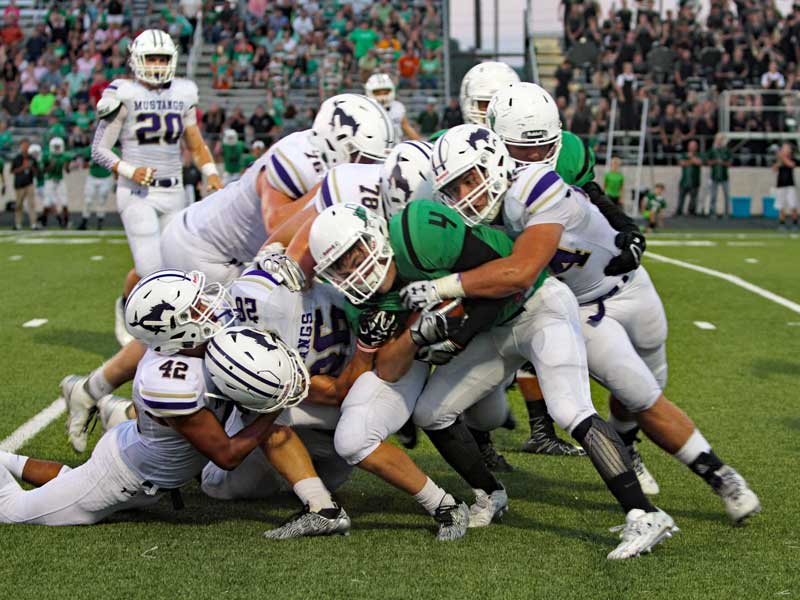 JENNIFER FIERRO • STAFF WRITER
MARBLE FALLS — While all Texas schools in the University Interscholastic League will be required to share concussion data starting in the 2017-18 academic year, Marble Falls school district leaders have already moved to the head of the class on the subject.
"I think it's smart to try to improve the game and get data-based answers," said Marble Falls Independent School District athletic director Matt Green about the UIL initiative.
The UIL recently announced the launch of a state registry to track brain injuries in high school sports, but Green said the Marble Falls High athletic program had already voluntarily been turning in data to the state's governing body for some time.
The UIL is partnering with the Peter O'Donnell Jr. Brain Institute of the University of Texas Southwestern Medical Center to start the ConTex registry in an effort to track concussions across the state from its member schools. The registry, which will formally begin for the 2017-18 school year, will include concussion cases on middle school and high school athletes reported by trainers and other school personnel.
And Green said he's all for it.
"I think that's a positive," he said. "The UIL being an advocate for high school athletes and athletics, I'm going to go with that in good faith."
According to reports, the data that's turned in will contribute to concussion research. Officials anticipate it will gauge whether certain rules or equipment changes are improving player safety.
Athletic trainers and school personnel across the state will report all concussions that happen during UIL events, including games and practices, to a central database using an app or website created by Medical Innovation Labs in Austin.
Data to be submitted include the cause of the injury; a concussion history; the sport; and other information.
In addition, Munro Cullum, professor of Psychiatry, Neurology and Neurotherapeutics and Neurological Surgery at the institute, said his group will track how often concussions occur in each sport, discover areas of low rates, and determine whether practices are helping to reduce concussions or shorten recovery times in those areas.
Green said he's in favor of making sports, especially football, safer and using data to do that.
"We want to make the game as safe and great as possible, but we want to do it to make the game continue (in a similar way to how it is now)," he said.
This type of data will force equipment developers to create gear that will give added protection to athletes, Green said, and that's a good thing.
Though he didn't say the number of Mustang football players who suffered concussions during the 2016 season, Green did say that number dropped. Part of the reason for that, he believes, is because he has purchased helmets that offer the most protection.
"There's always going to be injuries in sports," he said. "It's our job as coaches to get the very best equipment we can. Experience will tell you there's nothing to eliminate concussions."
Another reason for the reduction in concussions at MFISD is because coaches have taught different tackling techniques and better ways for landing that help both offensive and defensive players.
"If you teach one kid how to tackle better, you've improved it," Green said.
Officials at Burnet and Llano school districts say they are learning about the program.
ConTex1, which is a program in the Dallas-Fort Worth area conducted by the institute and Cullum, is the forerunner of the statewide ConTex. ConTex1 began last year with the aim of getting detailed information about concussions.
The state has more than 800,000 public high school athletes, and more than 1,400 schools are members of the UIL. Because of those numbers, according to reports, this registry might be a key step for developing a national database of brain injuries in youths.
The Centers for Disease Control and Prevention is seeking funding to begin such a database, according to reports. The CDC predicts that up to 3.8 million concussions occur in sports and recreation annually, but some believe that not all individuals seek treatment for a possible concussion because the symptoms are mild or moderate. That causes specialists to wonder if all concussions are reported.
jfierro@thepicayune.com