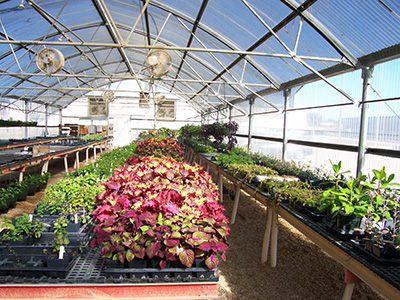 FROM STAFF REPORTS
BURNET — While digital media might take up a chunk of teenagers' lives, some still find time to get their hands dirty and grow a green thumb.
The Burnet Middle School greenhouse program led by Shelly Arrington allows youth to do just that.
Students learn about basic plant structure and life cycles in the greenhouse program. But they also learn some business skills as well. On April 7, the greenhouse students will open the facility to the public 8 a.m.-4 p.m. for the annual greenhouse plant sale.
"They'll have some great plants there for sale," said Lavona Fry, a member of the Highland Lakes Master Gardener Association.
Some of the plants available include tomatoes, peppers, hanging baskets and bedding plants.
The Master Gardeners help teach the students about plant propagation, and many of the plants in the sale come from those cuttings.
"These kids are really doing some wonderful things," Fry said. "A lot of time, the kids will talk about how they garden with their grandma or grandparents. Some will say, 'I helped my parents in the garden this weekend.' It makes you feel good to hear that because they're doing something together with their grandparents or parents."
Along with the greenhouse and plant knowledge, the program infuses some entrepreneurial skills as well through the plant sale.
"The kids assist people during the sale, so they're learning about sales and helping customers," Fry added. "It's just a wonderful, wonderful program."
The Burnet Middle School greenhouse is located at 1201 N. Main St. Customers can take U.S. 281 north of the Texas 29 intersection to Third Street and turn right. Go to the third entrance. There should be a sign that reads "Food Service."
Call (512) 756-6182 for more information.
editor@thepicayune.com