Lady Flames' win streak snapped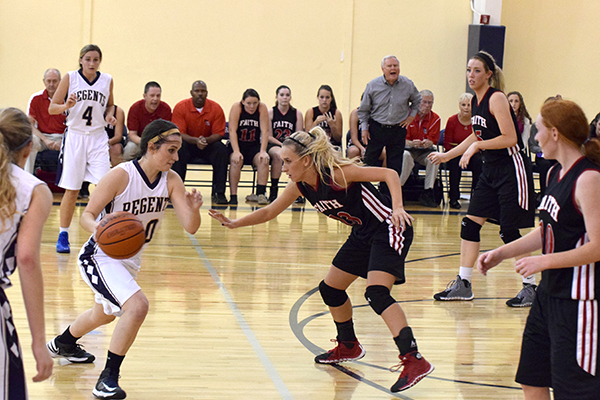 JENNIFER FIERRO • PICAYUNE STAFF
AUSTIN — The Faith Academy girls basketball team began the season with a 50-38 loss to Austin Regents on Nov. 4.
The loss snapped an 18-game winning streak that began in January.The Lady Flames (0-1) trailed 11-4 after the first quarter, then 26-14 at the half and 41-27 after three periods.
"We had almost no offensive leadership whatsoever," head coach Jerry English said.
The other factor that bothers English is 21 turnovers in the first half. The Lady Flames finished with 31. English said his players made poor decisions that allowed Regents to take advantage.
"I don't know if it was because it's the first real game," he said. "We looked like deer in headlights. (Regents) was more prepared, they were more aggressive. They ran a nice give-and-go offense."
The coach said practices will be devoted to defensive improvement and teaching fundamental concepts such as working with post players. Only three upperclassmen are on the 14-player roster.
"I still believe in this team," he said. "We still have tremendous potential. We have to get on the same page."
jfierro@thepicayune.com
OFFENSE: Points – Hannah Cozby 14, Jayla Reeves 11, Allison Metzger 7, Sedona Prince 4, Sierra Brinkley 2; assists – Brinkley 4, Reeves 3, Prince 1; rebounds – Cozby 3, Prince 2, Hanah Marks 1
DEFENSE: Rebounds – Cozby 8, Prince 5, Reeves 2, Brinkley 1; steals – Reeves 3, Brinkley 3, Prince 1, Alisha Williams 1, Cozby 1; blocks – Prince 3, Cozby 2
RECORDS: Faith is 0-1
UP NEXT: 6:15 p.m. Nov. 11, Faith vs. Austin Hill Country at The Fire Pit on the Faith campus, three miles east of Marble Falls on RR 1431