Ball is rolling on possible Marble Falls dog park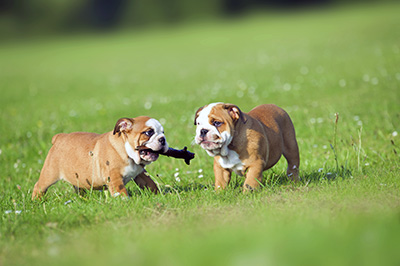 JENNIFER FIERRO • PICAYUNE STAFF
MARBLE FALLS — When the Marble Falls Parks and Recreation Commission members all voted "yea" to a possible dog playground, canines across the city wagged their tails in approval.
The commission voted unanimously on Nov. 3 to recommend the creation of dog park to the city council.
Director Robert Moss said staff has narrowed the location to two sites: Westside Park, located at the intersection of Second Street and Avenue Q, and property on Mormon Mills Road.
The city owns land at the Mormon Mills Road location, but it's an undeveloped tract. That location is part of the master hike-and-bike trail system, to be completed in phase three, though there's no timetable to when staff will begin working on that location.
"It'll take preparation and initial development," Moss said. "It's a good way to start developing that site. Those are the two choices as far as I can see."
Moss added he didn't favor one location over the other.
"We've been talking about doing something on (that Mormon Mill) site for some time," he said. "If you want fully functional right now, Westside Park would be the one."
Resident Megan Klaeger, who approached the commission about creating a dog park two months ago, was pleased with the commission's vote. Now she has to go about raising money and creating a nonprofit organization to create the park. Klaeger told the commissioners that if the city contributed the land, she'd raise the money and organize volunteers to do the rest.
She already spoke to two city council members, who are supportive, she said, though she declined to give their names.
And Klaeger said she has spoken to Boy Scouts and other volunteer groups, who are willing to donate their time and energy to help.
The first fundraiser goes hand in hand with the holidays. Owners can bring their dogs to get photographed with Santa Claus from 5 p.m. to close Nov. 19 at the R-Bar & Grill, 904 Third St. in Marble Falls.
Another fundraiser is a birthday party for her dog, Jo, in January or February.
"We're getting the word out and letting people know," Klaeger said. "The park is self-sustained, so we need a lot of fundraising help."
Moss said he attended a session on dog parks while he was at the National Recreation and Park Association conference weeks ago. He said 20 years ago, the pet industry was a $17 billion business. In 2014, it's $59 billion.
"A lot of people are opening dog parks and programs that involve pets," Moss said. "They involve (their dogs) as much as they do their own children. I think we're headed in the right direction and have the opportunity to be a part of that."
The commission also:
learned the city pool brought in $46,561 in 2014, which is up from $41,991, though the facility was opened 12 fewer days than in 2013. Moss said he believes the increase cost of hosting a private pool party played a factor. The price increase was from $60-$140, depending on the number of people attending the party. The commission approved keeping the prices for parties and entrance fees the same for 2015.
discussed joining Keep Texas Beautiful but took no action. The commission will talk about it again in January.
was told Moss needs photos of Johnson Park from the 1930s and 1940s for the Lonestar Legacy application. Moss said he has plenty of stories and verbal history, but he needs photos to show a pictorial history of the park. If citizens can help, call Moss at (830) 798-6250.
jfierro@thepicayune.com