Harmony School puppet class comes out of the shadows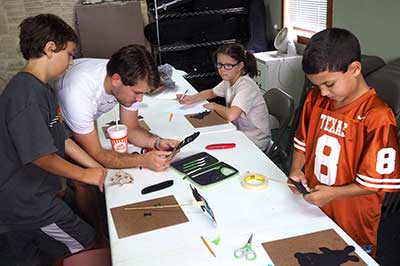 DANIEL CLIFTON • PICAYUNE EDITOR
MARBLE FALLS — Ben Garrett leaned over the bear to make a small incision.
"That'll do it," he said and looked up. The bear lay there, still and unflinching. But then again, he did make it out of black construction paper.
The bear is one of three that sit on the table before him. Across the table and to his right a bit, Ben's brother, Aidan Garrett, added a few finishing touches to his three little pigs. Across from him, Emily Bray worked on Goldilocks and the Big, Bad Wolf.
With those characters, the cast is set.
The three students took part in Harmony School of Creative Arts' shadow puppet workshop July 21-25. The class is one of several of the art program's summer series that offers everything from arts and crafts to intensive dance instructions. During the puppet class, the students craft a script, create the puppets and build and design a set. They wrap up the class with a shadow puppet performance.
"I gave them a choice of creating a story or combining ones they know," said instructor Cody Summerville. "They decided to combine two."
The trio opted to combine the story of "Goldilocks and the Three Bears" with the "Three Little Pigs." The premise of their story basically follows a dispute between the three bears and the three pigs. It seems, Summerville explained, that the bears and the pigs are fighting over who can be Goldilocks' friend.
They called the story, "Golden Jealousy: The Great Goldilocks War."
Apparently, it's not a romance.
The students traced the outlines of the characters on a piece of paper, then Summerville used a computer program and a special printer to cut out the designs. It's much easier and safer than cutting the characters by hand.
But sometimes, a piece calls for a precise hand such as the case of cutting out the middle of a bow tie that's about the size of an adult's fingernail. Aiden Garrett took on the task, adding a bit of translucent red paper to the bow tie to give it a dash of color.
And the project all came together.
The workshop is one of the many art, music and dance classes offered by Harmony School of Creative Arts, 1503 Mormon Mill Road. Though summer is winding down, there are still opportunities for people to explore the arts through the school's summer program. Go to harmonyarts.org for more information.
As for the puppet class, the students are finishing up their characters and the script. And who knows, maybe it's shadow puppets today and the silver screen tomorrow. After all, who wouldn't want to see a battle for the friendship of Goldilocks between the three bears and the three little pigs?
Let's just wait and see what the Big Bad Wolf says about the whole thing.
daniel@thepicayune.com