Harmony School's 'Peter Pan Jr.' will inspire all ages to 'never grow up'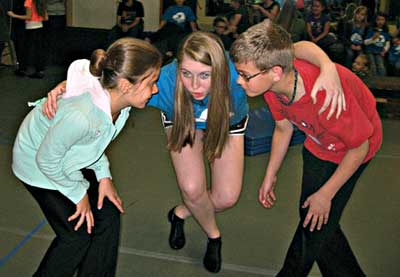 CONNIE SWINNEY • PICAYUNE STAFF
MARBLE FALLS — During upcoming performances of "Peter Pan Jr.," dozens of young actors will share life lessons in a whimsical play about growing up and holding onto your "inner child."
Anna Herrington portrays Wendy Darling in the play by students and supporters of Harmony School of Creative Arts on May 9-10.
"I remember watching 'Peter Pan' as a kid. It was one of my favorite shows," said 14-year-old Anna, who attends Marble Falls Middle School. "It's fun to be someone else that's not you for a short time. When you're finished with your production, you've made so many people smile. It's a really good feeling to have."
"Peter Pan Jr." takes audience members on a fantasy adventure with a mischievous and brave boy, Peter Pan, who can fly and tries to convince a group of siblings to remain children forever in Neverland.
The production includes a cast of 30 young actors with colorful costumes for the characters, including the Lost Boys, mermaids, fairies, pirates and Indians.
The play has inspired a creative environment for the cast, Executive Director Barbara Bend said.
"They learn so much doing a program like this. They learn teamwork, discipline, how to project their voices from a stage, about theatrics, interacting with other people, how to make quick decisions on the fly when things don't go like they're expected to," she said. "It's a fabulous story that has lots of adventures and shenanigans. It really is a lot of lifelong lessons in a fun atmosphere."
Performances are 7 p.m. May 9 and 10 at First Baptist Church, 501 12th St., and a 10:30 a.m. show May 10 with free admission by bringing a donation of canned goods.
"It gives back to the community through the church's food pantry, and it allows people who — if the money is tight — to come and have a good time," Bend said.
For evening shows, admission is $10 for adults; $5 for children ages 3-12; and free for ages 2 and younger. Proceeds benefit the nonprofit school, which offers instrumental music, voice and dance instruction.
"'Peter Pan' is so adventurous, and, at the end, it's so heartwarming," Bend said. "The kids really learn what true love is all about and the love of your family despite whatever goes on."
The coming-of-age tale by J.M Barrie involves themes of love, greed, jealousy, revenge and pride as well as swashbuckling adventures.
"It's also about the love between (Wendy) and her parents. At the beginning, (her father is) real strict. He still loves her, but, at the end, he finds his inner child," Herrington said. "What I got out of this is that you never have to grow up. You can always have a fantasy side inside of you."
Harmony School of Creative Arts is located at 1503 Mormon Mill Road.
Go to harmonyarts.org for more about the school.
connie@thepicayune.com