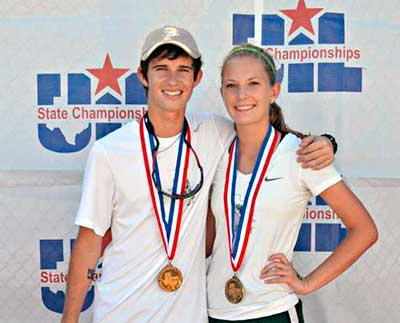 SPECIAL TO THE PICAYUNE
COLLEGE STATION — Three years ago, Hailey Wilson and Price Carpenter met at a United States Tennis Association event in College Station.
At that time, neither could have imagined what they would accomplish together when Wilson moved with her family to Burnet.
But, on April 29, the Burnet High School mixed-doubles tennis team snagged bronze medals after finishing third at the Class 3A state tournament.
"Great things have come from the Burnet tennis program in the past few weeks," head coach Tammy Hullum said.
At the state tournament, the Bulldogs duo went 1-1. They began by beating Jeffrey Rollins and Kristen Ladner of Lufkin Hudson, the No. 1 team from Region 3, 6-2, 6-4 in the first round.
But, in the semifinals, they lost to Abhishek Dayal and Cheryl Wright of Frisco Lone Star 0-6, 1-6 in the semifinals.
"Nothing would go Burnet's way," Hullum said.
The duo continued what they started as District 8-3A champions at the Class 3A Region I tournament April 16-17.
"We knew we had some work ahead of us after being seeded third," Hullum said. "I felt we deserved a much higher rank, but I knew the teams in Region 1 didn't know the capability of Hailey and Price."
The two proved their coach right, winning their first two matches easily before falling to eventual state champion Brittany Smyser and Max Tadvick of Abilene Wylie 0-6. 3-6.
The loss moved Burnet in position for third place. So Wilson and Price had to beat Valenzula and Trevino of Andrews to have a chance of a playback and state bid. The Bulldogs won that match 6-4, 6-3.
"Burnet played great tennis with shots set up by Wilson from the backcourt and Carpenter at the net putting away winners," the coach said.
At that point, the Bulldogs had to pull for the Wylie team to defeat Organ and Miller of Burkburnett for a possible playback. Burnet got their chance when Wylie won.
Price and Wilson made the most of their opportunity, defeating Burkburnett 7-6, 6-4.
"Both Hailey and Price will be missed after years spent with the Burnet tennis team, but I know they will do great in college," Hullum said. "Both have been accepted to Texas A&M and will start classes this fall."
jfierro@thepicayune.com
STATE: Wilson and Price def. Rollins and Ladner of Lufkin Hudson 6-2, 6-4; lost to Dayal and Wright of Frisco 0-6, 1-6 in the semifinals
REGIONALS: Wilson and Price def. Manchuca and Garcia of Pecos 6-3 6-2; def. Smith and Ashley of Graham 6-2, 6-2; lost to Smyser/Tadvick of Abilene Wylie 0-6, 3-6; def. Valenzula and Trevino of Andrews 6-4, 6-3; def. Organ and Miller of Burkburnett 7-6, 6-4