OBITUARY: Dovie A. Burton Ramsey, 89, of Spicewood dies March 10, 2014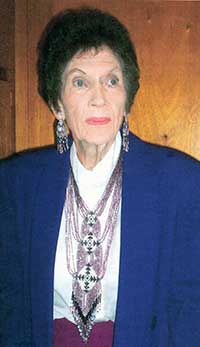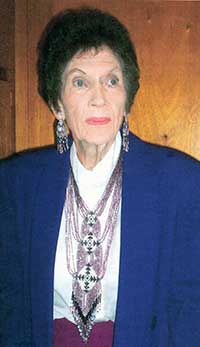 Dovie A. Burton Ramsey, daughter of Brooks F. and Oscie O. Burton, was born Jan. 19, 1925, in Spicewood, Texas. She passed away March 10, 2014.
Dovie attended Texas State University for two years after graduating from Spicewood as salutatorian in 1942. After college, Dovie and her two friends decided to travel. They traveled to Washington, D.C., where they worked at the Pentegon for two years. After that, they decided to come back to Texas. 
In Texas, Dovie worked for the KTSA radio station in San Antonio. While in San Antonio, she met the love of her life, (Col.) Foster G. Ramsey. They would spend the next 65 years together, traveling during his military years and into retirement. In 1997, she became blind. They eventually retired to the family ranch in Spicewood.
Dovie was indeed a people person and loved to travel. She learned to make the most beautiful, elegant beadwork necklaces and earrings. Always adorned with her beautiful treasures, she was often asked on the spot by admirers if they could purchase her beadwork.
It was such a joy to have her. She was treasured by everyone who knew her.
Dovie A. Ramsey was preceded in death by her parents; her husband; sister, Leona Burton; and son, Todd O. Ramsey.
Surviving her is her daughter, Joan L. Ramsey-Killebrew; grandson, Raymond V. Killebrew and wife Tracy; great-grandchildren, Jordan, Karissa and Sydney Killebrew; and many cousins and friends.
A funeral service is 11 a.m. March 12 at Clements-Wilcox Funeral Home, 1805 U.S. 281 North in Marble Falls, (830) 693-4373. Visitation will begin at 10 a.m. prior to the service. Burial will follow at Fall Creek Cemetery.
Condolences may be offered to the family at www.clementswilcoxfuneralhome.com.
In lieu of flowers, memorials may be made to Hospice of Austin, 4107 Spicewood Springs Road, Austin, TX 78759, Attention: Grace Washington 512-342-4700.