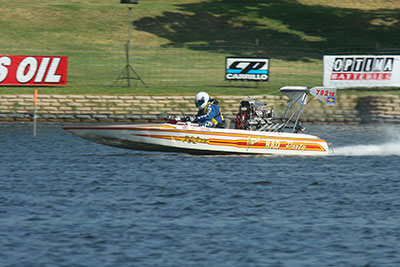 DANIEL CLIFTON • PICAYUNE EDITOR
KINGSLAND — When Walter Dulin's third engine blew early in the 2012 drag-boat season, his boat's name, "Du It Again Dulin," might have become a reference to his mechanical problems rather than his consistent top finishes."I knew I had a good piece of equipment, we just ran into some problems," the Kingsland racer said. "But I never really considered throwing in the towel for the season. Racing is just too fun."
Fortunately, he didn't. Dulin put another engine in his No. 033 Top Eliminator and began ripping through the competition. By the end of the year, Dulin finished No. 1 in the Lucas Oil Division 2 Championship Series for the Top Eliminator class.
Fewer than 300 points behind him in the No. 2 position was the boat of Kingland resident John Heinecke, "Juan Bad Party," driven by Marble Falls resident Steve Thomas. Heinecke and his team, including crew chief Jimmy Kinsey of Marble Falls, grabbed first in the 2012 Southern Drag Boat Association standings in the Top Eliminator class.
Dulin finished sixth in SBDA.
"It really is quite an accomplishment to have two racers from right here in the Kingsland area going 1 and 2 in the Lucas standings," Heinecke said. "Especially in the Top Eliminator class, which is so competitive."
In January, during the Lucas Oil Drag Boat Racing Series banquet in Las Vegas, officials named Dulin the 2012 Top Eliminator driver of the year. It was a recognition the eight-year veteran racer wasn't expecting.
"This is a pretty big deal, since out of 350 racers, they only give out two (racer-of-the-year) trophies," Dulin said.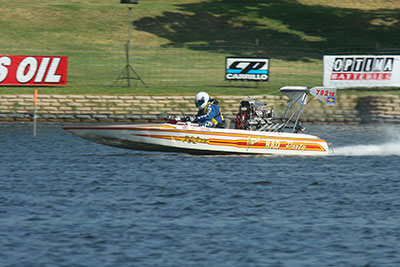 Heinecke first jumped into the sport in 1964 and raced into the 1980s.
Though he stepped out of drag-boat racing for a bit, he never lost the love for it and the people, which is one of the reasons Heinecke returned as an owner several years ago.
"I think that's what is so great about this sport: the people," Heinecke said. "Everybody cares for each other. You help each other out, even if they are competing against you. It's a great family sport."
Don't take the family atmosphere and civility as lack of competitiveness.
"No, when you're on the line, you want to win," Kinsey said.
For Dulin and Heinecke, it often meant a showdown between their two boats in 2012.
"I would say Steve (Thomas) and I were the two most consistent drivers in the Top Eliminator class. He hated to race me, and I hated to race him," Dulin said with a laugh. "You had to be on your game."
In drag-boat racing, the winner isn't necessarily the fastest one to the finish line. Instead, it's the driver who comes the closest to his or her time without going under. In the Top Eliminator class, drivers shoot for the magic 9.00-second mark.
Along with the crew getting the boat dialed in, the driver needs to know how to get it down the course as fast as possible while not "breaking out" and beating the racer next to him or her, Heinecke explained.
It's a chess game as much as a speed game.
Kinsey and his crew from Bad Company joined forces with Heinecke to campaign for the Kingsland businessman's boat No. 792 the past several years.
For Dulin, he basically serves as mechanic, owner and driver. His son, Michael Dulin, along with another hand, DeWayne Kunkel, round out the crew.
"We definitely do it because we love it," Dulin said. "You really don't make any money off this, even when you win, because of travel and overhead."
With the 2013 season less than 60 days away (April 26-28 in Waco), both teams are gearing up for another campaign.
The question is will "Du It Again Dulin" live up to his name or will "Juan Bad Party" shake things up with top finishes in both SBDA and Lucas? Heinecke and Kinsey clearly want boat No. 792 as No. 1 in both series.
Dulin, however, is toying with the notion of moving up to the Pro Eliminator or 8-second class. But he's not against one more campaign as a Top Eliminator. After all, had he not blown three engines in the first few SBDA points races last year, "Du It Again Dulin" might have been tops in SBDA as well as Lucas.
"We'll see," Dulin said with a grin. "We'll see."
daniel@thepicayune.com