OBITUARY: Doris Wall, 82, volunteered at Burnet County fair, local hospitals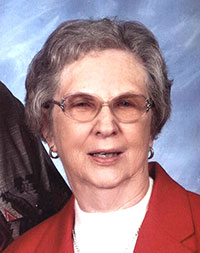 Doris Wall, 82, died Jan. 22, 2013. She was born Aug. 29, 1930, in San Saba to Joe and Elva Talley Dyess.
Doris graduated from San Saba High School and the Durham Business School in Austin. She began her career at the Department of Public Safety and, after moving to Burnet, worked for Burnet County ASCS/USDA for 31 years.
She was a volunteer for the Burnet County fair and rodeo and a "Pink Lady" at Shepperd and Seton hospitals. She also served on the bereavement committee at her church for eight consecutive years and at the Bertram Thrift Shop for eight years and was a past member of the Pen Chat Club.
She was a member of First Baptist Church in Burnet and regularly attended Sunday school and church as long as her health permitted.
Doris is survived by her daughter, Mary Kay and husband Joe Flemming; grandsons, Shane Warden and Josh Townsend; great-grandchildren, Jerrisck, Calli and Tommy; and sisters Patsy and husband Ken Aulick and Louise and husband Bill Estell. She also is survived by her sister-in-law, Lillian Wall of Burnet, and Bill Alman of Spicewood.
She was preceded in death by her husband of 62 years, Johnny; sisters Elva Joe Lewis and Hildagene Beasley; and brother, Johnnie Dyess.
Visitation is 6-8 p.m. Jan. 24 at Clements-Wilcox Funeral Home, 306 Texas 29 East in Burnet, (512) 756-2222.
A service is 10 a.m. Jan. 25 at the funeral home with the Rev. Barry Drake officiating. Interment will follow at Rockvale Cemetery in Spicewood.
Serving as pallbearers are Richard Ellis, Ralph Cofer, Carl Hibler, Jerry Alred, Lonnie Anglin and John Burke. Memorial donations may be made to First Baptist Church of Burnet, the Rockvale Cemetery Fund, Friends of Bertram Library or to a charity of your choice.
Condolences may be made at www.clementswilcoxburnet.com.