OBITUARY: Minnie Calhoun, 80, of Granite Shoals worked construction, owned Minnie's Café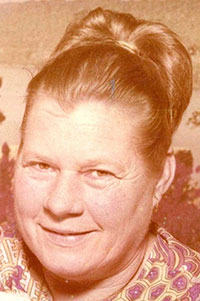 Minnie Isabelle Calhoun, 80, of Granite Shoals died Jan. 20, 2013. Born July 1, 1932, in Austin, Minnie was the daughter of Louis and Mary (Hamilton) Cantrell.
Minnie moved to Granite Shoals from Coleman in 1964. She worked with Calhoun Construction, driving a dump truck and other construction equipment. From 1964 to 1969, she also owned Minnie's Café and Laundromat and was a homemaker.
Survivors include her sons, Charles Edward Whited and wife Helen of San Marcos and James Elton "Bozo" Whited of Granite Shoals; daughter, JoAnn Whited Johns and husband Dorman Lee of Granite Shoals; sisters Charlene Garrett of Azle, Cecil Young of Bastrop and Shirley Cardell of Austin; and brothers Charlie Cantrell and Louis Cantrell, both of Texas. Minnie also is survived by grandchildren C.B. Whited, Amanda Whited and Melissa Whited; great-grandchildren, Colby Whited, Colt Carlton Whited, Stephanie Cooper, Jeffery Cooper, Steven Cooper and Correy Cooper; and her very dear friend of 25 years, Marty Atkins.
She was preceded in death by her parents; brother Jesse Cantrell; twin sister, Winnie Elizabeth Cantrell; and grandson Carlton Whited.
A graveside service is 1 p.m. Jan. 23 at Fiskville Cemetery in Austin.
Arrangements by Clements-Wilcox Funeral Home, 1805 U.S. 281 North in Marble Falls, (830) 693-4373.
Condolences may be offered at www.clementswilcoxfuneralhome.com.