Burnet boys hold on late for victory over Liberty Hill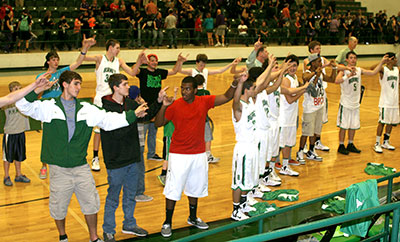 BURNET — The Burnet High School boys basketball team's effort didn't fade when Liberty Hill made its late run Jan. 11 to win 53-51 in the District 8-3A opener for both teams.
PHOTO 1: Members of the Burnet High School boys basketball team and fellow students sing the school alma mater after the Bulldogs defeated Liberty Hill 53-51 on Jan. 11. Staff photos by Jennifer Fierro
PHOTO 2: Burnet High School (center) junior post Clayton Baumgart drives to the basket.
The Panthers tied the game on a 3-pointer from senior Shane LaCaille with 28 seconds remaining in the game.
Immediately after the shot, Burnet junior post Clayton Baumgart threw a full-court pass to senior forward Jordan Barnard, who was crushed between two Panthers but still had enough to score the game-winner with 19 seconds left.
Burnet junior guard Derek Kiser got the steal on Liberty Hill's throw-in to preserve the victory.
"It's an important win, but it's one win in district," Burnet head coach Roy Kiser said. "Whether we win or lose, we always say we can't get too high or too low. We took a big step in what we think we can do."
The Bulldogs, who rolled to a 10-4 lead in the first quarter, led 44-34 to begin the final period, but the Panthers went on a 10-4 run to close to within 48-44 with a little more than two minutes remaining.
[tabs style="default"] [tab title="GAME STATS"]
TOP PLAYERS: Burnet – Colton Stevens 16 points (14 in the second quarter), Jordan Barnard 12 points; Liberty Hill – Shane LaCaille 15 points, Blake Danielak 14 points
BURNET: Points – Clayton Baumgart 9, Derek Kiser 8, Jai Patel 3, Cory Cavender 1
LIBERTY HILL: Points – Callen Mikulencak 7, Jadon Durity-Boatwright 4, Jessie Cousins 4, Tristan Heidelberg 3, Tyler Eyre 3
RECORDS: Burnet is 11-8 overall and 1-0 in District 8-3A; Liberty Hill is 21-3 overall and 0-1 in district.
UP NEXT: Burnet at Llano, 2509 Texas 16 South in Llano, 8 p.m. Jan. 15
[/tab] [tab title="DISTRICT STANDINGS"]
Burnet, 1-0
Lampasas, 1-0
Gatesville, 1-0
Liberty Hill, 0-1
Llano, 0-1
Brownwood, 0-1
[/tab] [/tabs]