Leander Vandegrift has late comeback to beat Marble Falls boys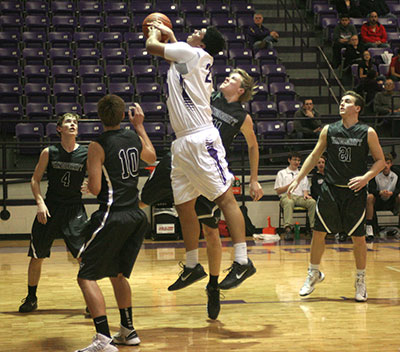 MARBLE FALLS — The Marble Falls High School boys basketball team missed four layups in the final two minutes of a District 25-4A contest Jan. 8, allowing Leander Vandegrift to escape with a 48-47 victory.
PHOTO 1: Marble Falls High School senior post Rey Baltazar (center) grabs an offensive rebound during the Mustangs' 48-47 loss to Leander Vandegrift on Jan. 8. Staff photos by Jennifer
PHOTO 2: Marble Falls High School junior forward Frederik Filsoof (right) creates space so he can prepare to take a jumper in the lane.
Mustangs head coach Neil Laminack acknowledged the result was difficult to take.
"It's not like we got a 3-pointer off and didn't make it," he said. "We had point-blank shots — we just didn't finish."
Laminack said Marble Falls actually hurt its chance of winning about two minutes earlier. That's when the Mustangs missed a shot that would have extended their lead to seven points. Instead, Leander Vandegrift sophomore Davis Florence knocked down a 3-pointer at the top of the key to trim the Vipers' deficit to 45-43.
And though Marble Falls senior post Rey Baltazar scored a two-footer on the next possession, the Vipers answered with a 3-pointer to keep momentum in their favor.
"Now, we're trading two- (point baskets) for 3s," Laminack said about the final minutes.
jfierro@thepicayune.com
[tabs style="default"] [tab title="GAME STATS"]
ON OFFENSE: Points – (Marble Falls) Rey Baltazar 16 (12 in the second half), Joey Blackledge 15 (all 3-pointers), Colin Edwards 6, Frederik Filsoof 6, Daniel Rivera 4; (Vandegrift) Davis Florence 14, Ryan Brewster 10, William Graham 8, Hunter Gross 6, Luke Peterman 4, Nick Fionda 4, Zach Hartman 2
RECORDS: Marble Falls is 14-14 overall and 1-2 in District 25-4A play; Vandegrift is 2-2 in district.
UP NEXT: Marble Falls at Cedar Park Vista Ridge, 200 S. Vista Ridge Blvd. in Cedar Park, 7 p.m. Jan. 11
[/tab] [tab title="DISTRICT STANDINGS"]
Leander, 4-0
Vista Ridge, 2-1
Vandegrift, 2-2
Marble Falls, 1-2
Cedar Park, 1-2
Rouse, 1-3
Dripping Springs, 1-3
[/tab] [/tabs]